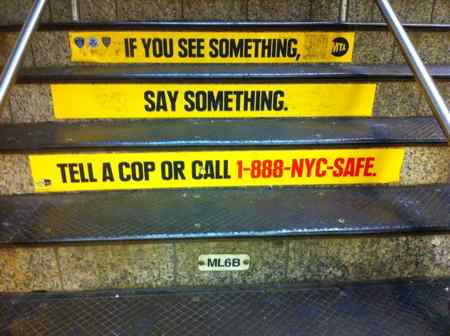 These are challenging times in New York City.
After the 9/11 attack on the twin towers and the Pakistani terrorist's failed car-bomb attack in Times Square, the NYC cops have their hands full in thwarting another attack on the city.
As always, one of the best defenses of any city or nation is an alert citizenry.
The above sign on the steps of the Times Square subway station in midtown Manhattan exhorts commuters to be on the alert for any suspicious activity and report it immediately to the police.
To be precise, the sign is not in the Times Square subway station but in the subterranean pathway leading from the Times Sq-42nd St station to the Port Authority train station on 42nd St and 8th Ave.
Eternal vigilance is not merely the price of liberty but of safety as well.