Qatar Airways, ranked the world's best airline by Skytrax for two years in a row, has rolled out a worldwide 3-day sale.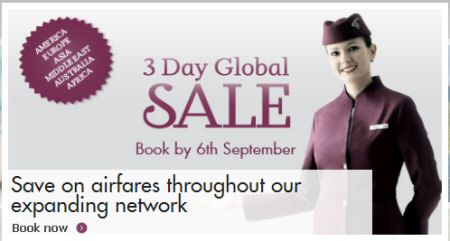 The sale, which starts today and ends at midnight September 6 (local time in every market), brings reduced fares to destinations in India, Middle East and other parts of Asia, Africa and Australia.
While the fares are attractive, seats are limited.
I spent over 10-minutes on a test to find flights to Delhi from New York City (JFK) for $1,053.
Here's a sample of Qatar Airways sale fares for Economy Class: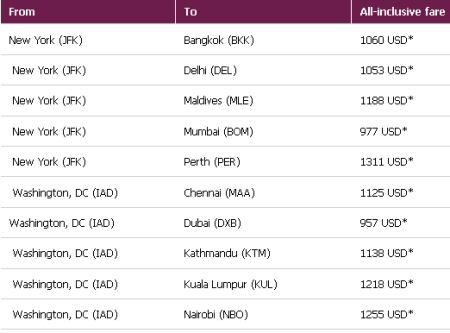 The discounted tickets apply to both Economy and Business Class.
Although just 15-years-old, Qatar Airways is now one of the world's most admired and fastest growing airlines.
The Doha-headquartered airline flies to 118 major business and leisure destinations across Europe, Middle East, Africa, Asia Pacific, North America and South America.
In the U.S., Qatar Airways flies to New York City (JFK) and Washington DC (IAD, i.e. Dulles, VA).
The airline plans to start flights to Chicago in April 2013.
Qatar Airways flies to several destinations in India including Ahmedabad, Amritsar, Bengaluru, Chennai, Delhi, Goa, Hyderabad, Kochi, Kolkata, Kozhikode, Mumbai and Trivandrum.
To make a booking for the sale tickets and for the blackout dates, terms, conditions and exclusions, visit Qatar Airways Global Sale.