On the wish-list scale of the Homo Sapiens male, nothing ranks higher than the eternal craving for an erection that kind of lasts forever.
A little while ago I stumbled upon an interesting article in the science section of the New York Times that's very relevant to all ye priapic Indian schmucks, particularly the rabid fans of that talentless Tamil film star Ajith.
In my not-so-humble opinion, Ajith's claim to fame owes more to a rabid fan-base comprised of the worst elements of the human riff-raff than to his acting skills, of which he's grossly deficient.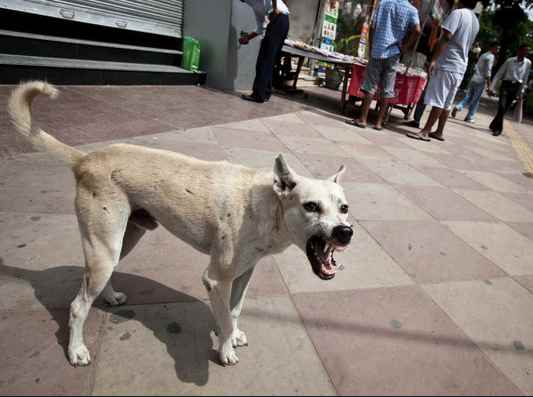 Indian Rabid Dog
Picture courtesy: New York Times
Ajith's Torture – Peerless
As anyone who's suffered through the bad Karma of sitting through a movie starring the Kollywood zombie Ajith Kumar knows, it's a trauma equaled by few others in the Milky Way.
Torture of an infidel at the hands of the Taliban, listening to Mitt Romney blabbing on and on about more tax cuts for the wealthy, seeing a Salman Khan film, stepping on a landmine in the gullies of a remote village in Kandahar or ending up on Idi Amin's plate as breakfast, bad as they all are nothing matches the depths of depravity inherent in a film helmed by Ajith Kumar.
Soon after the horror-show of a Billa, Aalwar or Asal ends, begins the endless nightmare for discerning movie buffs.
Worse, Ajith's on-screen depravities have a vast army of delusional fans in Tamil Nadu who believe the blasphemy that their star's repeated cruelties on the screen in the name of acting is high art.
Never let it be said that the abyss of idiocy among Tamil movie fans is fathomable.
Sustained Erection for Ajith's Fans
Rabid as Ajith's fans are in the figurative sense, it's time for them to take their rabies to a new, higher level.
And for us to help them navigate the process.
According to the NYT piece, there's a technique to get sustained erections and up to 30 ejaculations in a day.
Sustained erections and 30 ejaculations?
Gosh, what can be more pleasing than this holy grail to Ajith's rabid fans.
They must all be salivating and frothing at the mouth already, doing one of those danses macabres that Ajith excels in. By the way, paid performers at funerals in Tamil Nadu do a better job at dancing than Ajith.
Here's the technique for Ajith's fan-base to achieve the Nirvana of sustained erections and 30-ejaculations per day.
This is not a technique that most humans can easily embrace.
But for Ajith's rabid fans, it's a piece of cake.
Hey, Ajith fans! Are you ready?
The sure path to a sustained erection and 30 ejaculations a day for y'all is to get bitten by a rabid dog.
Since you Thala-illadha (headless) noobs are already into depravity big time by virtue of being Thala's fans, getting bitten by a rabid dog should be a walk in the park.
We can almost hear your collective shout, Simple, Machchi.
Go for it, then.
What are you waiting for?
After all, time and tide erections wait for none. 😉
You get your sustained erection and uncontrollable ejaculations and we get to see better Kollywood films.
That's what we call a double-bonus.
For without your sustained support, the vine of Ajith's popularity would soon wither into oblivion and, hopefully, a better breed of Tamil actors will take his place.
No Kidding
If you think I'm kidding on rabies inducing sustained erections and 30-ejaculations a day, here read this excerpt from the New York Times piece:
I started reading "Rabid: A Cultural History of the World's Most Diabolical Virus," a new all-about book, thinking that I would be most interested in the grim anecdotes and lurid details the book promises, and delivers.

….Among the lurid details I didn't know about until I read the book is that rabies, on its inexorable death crawl through the nervous system to the brain, can cause sustained erections, and on rare occasions frequent, and uncontrollable ejaculations in human males.

The authors write, "case reports from history describe up to thirty ejaculations in a single day" and go on to note that "The Roman physician Galen, in his own remarks on rabies, describes the case of an unfortunate porter who suffered such emissions for three full days leading up to his death."
As anyone who lives in India knows, rabies is a deadly disease triggered by the bite of a rabid dog.
If not treated promptly, the victim dies a painful death in a few days.
Like with all things terrible, India is the world leader in rabies deaths.
Scientists believe that the world's first canine infected with rabies was an Indian dog.
Anybody surprised?
Of the estimated 55,000 world-wide deaths caused by rabies every year, some 20,000 happen in Mera Bharat Mahaan.
Another 250 million Indians infected by the rabid Bollywood virus die a slower death but that's a subject for another day.
Related Content
A Searing Narrative of Rabies, and the Desperation to Forget It
Where Streets Are Thronged With Strays Baring Fangs