A crackpot today made the Columbine massacre seem small by killing 27 people (early reports) including 20 children at the Sandy Hook Elementary School on Dickenson Drive in Newtown (Connecticut).
The killer, identified as Adam Lanza (20), is also among the dead.
Media reports say more than a 100 rounds were fired in the shooting that happened around 9:20AM in the morning.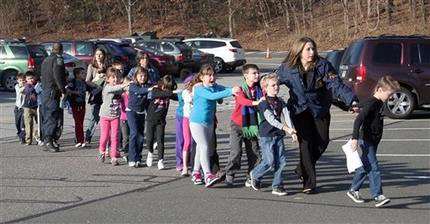 Police Leading Children Out of Sandy Hook School
(Pix courtesy: AP)
Sandy Hook Elementary School in Newtown is 60-miles northeast of New York City.
Most of the children killed today were in two classrooms.
Adam's mother, who was a teacher in the school, was among his victims. After killing his mother at home, Adam started for the school.
Until today's tragic incident, the biggest school shooting was in Columbine, Colorado.
On April 20, 1999, two high school students in a Columbine (Colorado) school killed 12 students and a teacher, injured several and then killed themselves.
Why So Many Shootings in America?
The major problem with controlling shootings in America is the easy availability of guns.
Lawmakers have little incentive to curb gun ownership because polls show the public strongly favors gun ownership.
The Republican Party and the powerful National Rifle Association strongly oppose any attempts at gun control.
Due to the easy availability of a variety of cheap guns, shootings in America are frequent in public places including in malls.
And the public is used to these violent incidents.
For three days after a violent incident, there's a big hue and cry. But on the fourth day things are back to normal until the next incident and then the three-day hue and cry starts again.
The powerful Pro-Gun lobby in America believes the Second Amendment gives them the right to own Guns.
America must make it very hard to acquire guns if it wants to curb the repeated acts of insane violence.