Braving the cold snap, several dozen people including your favorite enfant terrible SI stood shivering outside AMC 25 in Times Square, New York City Tuesday morning eagerly waiting for the doors to open so that we could catch the first show of Quentin Tarantino's new film Django Unchained.
By the time the movie got started, the cavernous hall # 12 at AMC 25 was 85-90% full for the opening 10AM show.
Boy, was the wait in the cold worth it.
Folks, Django Unchained is the best movie I've seen in 2012. And I've seen a lot of films in 2012, some dating back to the 1930s!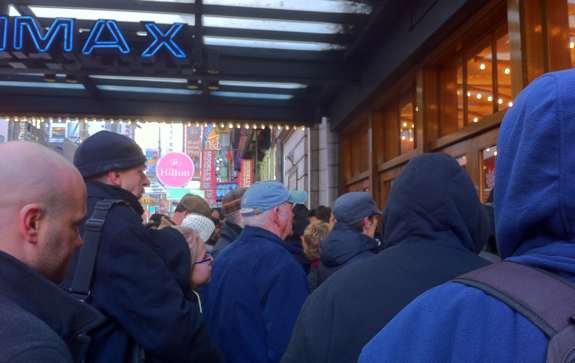 People waiting outside AMC 25 in Times Square NYC to watch Django Unchained
Brilliant Movie
A galaxy of talents (Christoph Waltz, Jamie Foxx, Samuel Jackson, Leonardo DiCaprio), an ace director (Quentin Tarantino), a highly unusual story, eye-popping photography (Robert Richardson) and an extremely pleasing soundtrack make a rare union in Django Unchained to give the audience a lavish feast.
It was the best $7 I spent this year (shows before noon are $7 at AMC 25).
In Django Unchained, set in antebellum America in the deep south,  Tarantino takes a Western and plonks it into a blood-curdlingly cruel slave society, embellishes it with a generous dollop of romance and colors it a deep red with fiery violence, yielding a strange but highly entertaining beast.
A bounty hunter of German origin Dr. King Schultz (Christoph Waltz) interrupts a slave-caravan on a dark night and after a hail of  gun-fire frees Django (Jamie Foxx) and enlists his help in finding the Brittle brothers on whose heads hang a rich reward for their capture, dead or alive.
Thus begins an odd partnership between a White man and a slave, a collaboration that puts the Nigga on the horse to the astounding shock of a society that has never seen the bizarre spectacle of a Black man atop a nag (horse).
For Django, joining with Dr.Schultz is a heaven-sent opportunity as it gives him a chance to make good money, earn his freedom and locate his lovely wife Broomhilda Von Shaft (the beautiful Kerry Washington), forcibly separated from him by their slave-owners.
Besides directing the film, Quentin Tarantino also wrote the highly engaging story, which in one memorable bloody scene features a vicious, deadly version of human cock-fighting called Mandingo to amuse the slave owners.
Not one dull nanosecond in this story.
Oh, What a Cast!
Christoph Waltz made it to the consciousness of movie goers as the "Jew Hunter" Nazi commander Col.Hans Landa in Tarantino's 2009 film Inglourious Basterds and picked up a whole bunch of awards including Best Actor at Cannes and Best Supporting Actor at the Oscars.
As the wise-ass, quick to the gun bounty hunter, Waltz is no less brilliant in Django Unchained.
Let the word go forth right now that SI will not be among the surprised if Waltz picks up another bunch of awards for his performance in Django Unchained.
Notwithstanding the title part going to Jamie Foxx, I felt Waltz got the meatiest role in the film.
Jamie Foxx, Leonardo DiCaprio as the brutal slave owning Calvin Candie and Samuel Jackson in a memorable role and a most unusual get-up are remarkable.
Jamie Foxx's Django in a cocky blue outfit jauntily astride a horse is a sight to behold!
Together, Waltz, Foxx, DiCaprio and Jackson light up the screen to the ecstasy of viewers. There were repeated vocal notes of approval during the course of the movie and a final round of loud applause at the end.
Robert Richardson's photography does fabulous justice to a nonpareil story by Tarantino.
In one memorable scene, as Waltz's character Dr.Schultz shoots a guy in the fields blood from the victim splatters on the white flowers staining them with a thousand red specks.
Nice Soundtrack
Borrowed mostly from famous yesteryear pieces, the soundtrack, including the opening Django theme song by Rocky Roberts, is heaven.
Given Tarantino's fondness for the composer Ennio Morricone, it's no surprise that a few of his works figure here.
Django Unchained also includes a new composition for the film by Ennio Morricone.
You can listen to the soundtrack and Tarantino's commentary here.
Extraordinary Film
Quentin Tarantino is perhaps the only director in Hollywood today who scores high marks in multiple arenas: putting up a riveting story, eliciting unforgettable performances from his cast, great photography and wonderful music.
By the way, Tarantino has a small role in the film too. Keep an eye out for him in the second half.
Django Unchained is a brilliant film that deserves every word of the countless encomiums being heaped on it.
Rarely this year have these old, tired eyes witnessed such magic unfold on the screen.
Some viewers will find it hard to resist comparing Django Unchained with Tarantino's previous films.
Opinions will vary wildly here and I won't waste any time on the pluses and minuses of Django Unchained vis-a-vis Tarantino's earlier films.
All I'll say repeat is that Django Unchained is the best film yours truly has watched this year.
SearchIndia.com enthusiastically recommends Django Unchained to all lovers of good cinema.
Django Unchained is playing all across America and discerning movie fans couldn't have asked for a better Christmas gift this year.