Man, it's been a while, a long while since SI talked up a good, heady cocktail for you guys.

Since it's the Holiday season what better cocktail to make, drink and discuss than one that includes Eggnog as its foundation layer.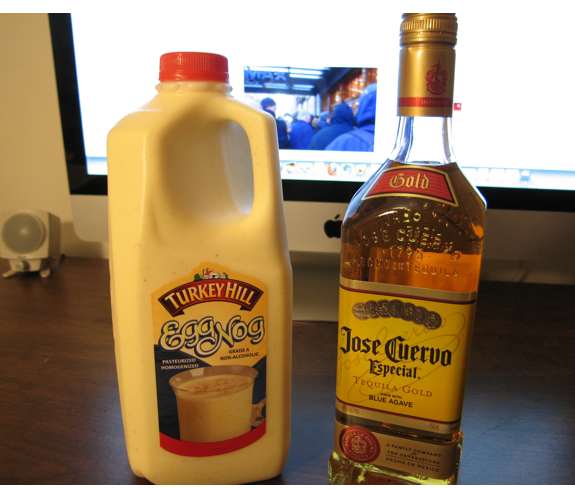 What's Eggnog?
Eggnog is a creamy delight made with milk and/or cream, sugar and whipped eggs.
You can either make Eggnog yourself at home or head to the nearest grocery store and pick up a container of pre-made Eggnog. Grocery store costs between $4-$6, depending on the size, brand etc.
Eggnog comes in different flavors like Pumpkin etc but I prefer the plain ones.
I must confess that yours truly has never made Eggnog at home.
Just don't have the inclination plus I don't drink Eggnog that much these days because of my dangerous levels of bad cholesterol.
Eggnog is pretty popular in the U.S. but I doubt my Indian readers have heard of this sweet delight.
Making Eggnog Tequila Cocktail
Eggnog Tequila is an easy and cheap cocktail to make. Just $25 will get you several cups of this heady delight to keep you warm during these cold winter nights.
First, I went to the non-Gujarati liquor store and got a decent Tequila, Jose Cuervo Tequila ($20 for a 750-ml bottle).
Next, I stopped at Food Lion, a local grocery chain. But they had only Pumpkin Spice Eggnog. I said "No" since I was looking for plain Eggnog.
Eggnog sales hit a high during Christmas and I was not surprised that Food Lion had exhausted the other varieties.
On the way home, I made a quick stop at Acme (an American grocery chain on the East Coast) and picked up Turkey Hill Eggnog (on sale for $2.99).
After getting home, I picked up a small cup (the free glass that comes with Chivas Regal box), filled it two-thirds with Eggnog.
Then I added 4oz of Tequila to the Eggnog.
After stirring the Tequila thoroughly into the Eggnog, I left it it in the freezer for about 5-8 minutes. I like stuff real cold so I always leave my libations (except red wine) in the freezer for a few minutes. Ice Cold stuff turn me on. 😉
If you have cinnamon or nutmeg powder, you can sprinkle some on the prepared drink as a garnishing. I was out of both powders today and had to make do without the garnishing.
After 10 minutes, I took out the Eggnog Tequila from the freezer and had a sip. Given my preference for high alcohol, I decided to add another ounce of Tequila. I stirred it well again. Remember to keep the Eggnog back in the refrigerator.
Sip the Eggnog Tequila cocktail slowly from a straw with some fried Masala peanuts (seasoned with curry leaves and coriander) and a nice Bollywood video on the side
I guarantee Nirvana.
As I invite the wonderful Eggnog Tequila cocktail into my system, I'm watching the Udi song-dance video from the Bollywood film Guzaarish (Hrithik Roshan is great, Aishwarya Rai is yuck in the scene).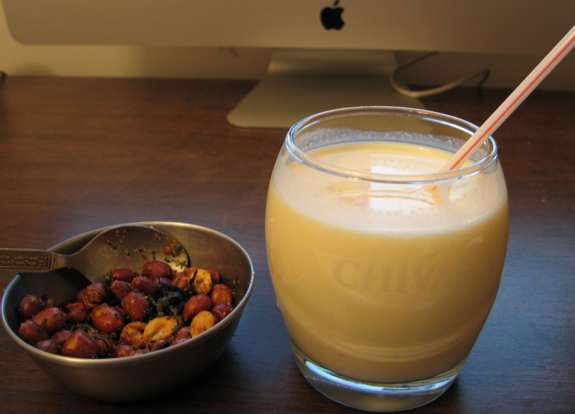 Eggnog Tequila (right) with Masala Peanuts
Eggnog Tequila – From Scratch
If you're the masochistic kind that gets a kick from making a cocktail than from quickly getting high on it.
Danger: Unfortunately Eggnog is high in cholesterol. A glass of alcoholic Eggnog will have about 350mg of Cholesterol. That's really, really bad if, like me, you already have dangerous levels of bad cholesterol.
Unless you're an irresponsible drinker like SI, Eggnog Tequila is not for you if you're cursed with high cholesterol.