A Telugu woman Sara Ege was sentenced to a life term in prison in the United Kingdom today for killing her seven-year-old son for failing to memorize verses from the Islamic holy book, Koran.
The 33-year-old Telugu lady viciously beat and killed her son Yaseen Ali Ege at their home in Pontcanna, Cardiff with a stick for failing to learn the Koran to her satisfaction.
Sara Ege will not be eligible for parole until she serves a minimum of 17 years in prison.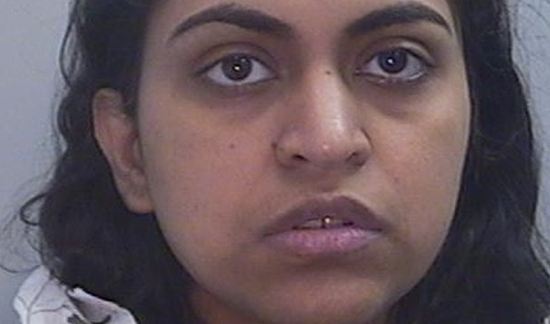 Aiyyo Devuda (Oh, My God) – Crazy Telugu Woman Sara Ege
(photo courtesy: BBC)
Hit Like a Dog
The boy died on July 12, 2010 due to severe abdominal injuries.
Yaseen's postmortem revealed internal injuries suffered over months of beating.
The young boy suffered fractures galore.
The postmortem report showed that Yaseen had fractured ribs, a fractured arm and a fractured finger.
After killing young Yaseen, crazy Sara burnt his body to destroy the evidence.
Sara told the UK police that on a scale of one to 10 in importance, learning the Koran was number 10.
The Telugu woman confessed to the police that she "hit Yaseen with a stick on his back like a dog."
Weapons of Child Destruction
The stick was not the only tool Sara deployed against her 7-year-old son.
Sara also beat Yaseen for months with a wooden pestle, a kitchen tool favored by Telugus and other Indians.
The Telugu woman also used a hammer, a rolling pin and a slipper to hit her young boy.
Indians have no compunction in using all kinds of implements to hit their young children.
A Telugu couple in Norway was recently found guilty of scalding their young son and hitting him with a belt for wetting his bed.
Video Confession
Like Telugu bidda Raghunandan Yandamuri in the U.S., Sara Ege made a video confession of her crime to the police.
In the video confession, Sara Ege told the police:
I was trying to teach him the Koran but he was not very good. I was getting more and more frustrated, if he didn't read it properly I would be very angry. I would hit him. We had a high target, I wanted him to learn 35 pages in three months. I promised him a new bike if he could do it. But Yaseen wasn't very good – after a year of practice he had only learned a chapter.
Although Sara later retracted the confession, it would prove to be the clinching factor for the jury of 12 to convict her last month.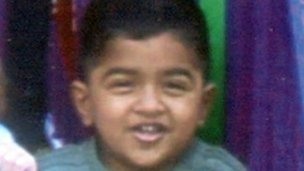 Poor Little Yaseen Ali Ege
(photo courtesy: BBC)

Who is Sara Ege?
Sara Ege, who was sentenced to life in prison this morning, hails from Hyderabad, capital of the the great Indian state of Andhra Pradesh.
Geographically located in South India, Andhra Pradesh owes its legendary fame to three things – Hyderabad Dum Biryani, Allu Arjun movies and the wholesale export of ambitious software programmers to America.
Sara holds a degree in mathematics. Her father is a dealer in antiques in Hyderabad.
Sara has two younger brothers.
The young lady moved to UK after marrying Yousuf Ege, a taxi driver.
Sara Ege will have to serve a minimum term of 17 years before she can smell the roses, eat a plate of Dum Biryani or watch a crappy Tollywood film.
Judge Wyn Williams said today at Sara's Sentencing:
I am satisfied that it was his failure to learn the Koran that day that resulted in the beating that caused his death….He was memorising passages but on that day Yaseen must have failed in some way and it was that which was a trigger for the beating….You killed your own son. At the time of the killing he was particularly vulnerable because of his age and because of his relative physical frailty. In killing your son you abused a precious relationship of trust which does and should exist between a parent and a child.
Yaseen had been kept home from a school picnic on the day of his murder to practice on his Koran verses.
Sara Ege joins Raghunandan Yandamuri, Srinivasa Erramilli and Chandrasekhar Vallabhaneni and Anupama Vallabhaneni in bringing infamy to the glorious Telugu peoples.