For one reason or the other, Balaji, Christ and Allah have abandoned Telugu biddas to be ravaged by the cruel hand of fate.
In the latest instance, Chicago Telugu bidda Urooj Khan was murdered soon after winning a $1 million lottery.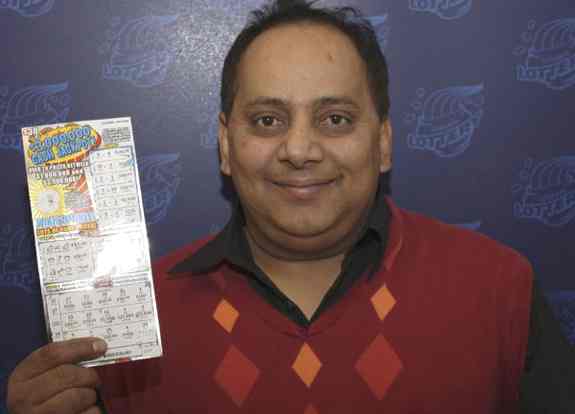 Chicago Telugu Bidda Urooj Khan, formerly of Hyderabad (Andhra Pradesh)
Urooj was elated after winning $1 million by playing the instant-game lottery in June 2011.
Alas, the poor man died on July 20, 2011 even before receiving the prize money.
How Did Urooj Khan Die?
Urooj came home on July 20, had dinner of ground Beef Curry with his family and went to bed.
He woke up screaming in the middle of the night and was rushed to St.Francis Hospital in Evanston, IL. But it was too late to save Urooj Khan.
At first, Urooj's death was considered a natural one, attributed to narrowing and hardening of coronary arteries.
No postmortem was done on Urooj's body.
But after one of Urooj's relatives complained, the Cook County Medical Examiner's Office did more tests on Urooj's blood.
Forensic pathologists then discovered lethal amounts of cyanide in Urooj's blood.
Now the Chicago police have an unsolved homicide on their hands.
Urooj Khan's body will be exhumed shortly for an autopsy.
Chicago police officers have questioned Khan's wife for several hours but have not declared her a suspect.
Who is Urooj Khan?
Telugu bidda Urooj Khan hails from Hyderabad, capital of the glorious state of Telangana Andhra Pradesh.
The South Indian state of Andhra Pradesh has entered history books for three things – Dum Biryani, en masse export of software programmers and Allu Arjun, the heartthrob of 85 million Telugus.
Like so many Telugus since, Urooj Khan looked West, and in particular to Amreeka, to make his fortune.
Urooj came to America in 1989.
His was a typical immigrant story – hard work and prosperity.
Urooj owned three dry-cleaning businesses and five condominiums in Chicago that he rented out.
A resident of West Rogers Park neighborhood of Chicago, Urooj Khan was married to Shabana Ansari.
Urooj has a daughter Jasmeen Khan from a previous marriage.
Like her husband, 32-year-old Shabana Ansari is also from Andhra Pradesh.
Shabana described her late husband as "extraordinary, nice, kind and lovable" and the "best husband on the entire planet."
Shabana has been questioned by Chicago police and their home searched.
Shabana told the police she had nothing to do with her late husband Urooj's death.
Just in case any of you want to pay your respects, Urooj Khan is buried at Rosehill Cemetery in Chicago.
Update: Urooj's body was exhumed on January 18, 2013. We're awaiting the detailed forensic analysis.