Rare is the Indian who has a kind word to say about Air India and its hopeless record when it comes to service.
But what's worse is that Air India also fares miserably in the ranking of the World's Safest Airlines for 2012.
In a ranking of 60 Safest Airlines by JEDCO (Jet Airliner Crash Data Evaluation Centre), Air India comes in at a miserable 58.
Pitiful.
Jet Airways, also from India, has fared better, coming in at No-37.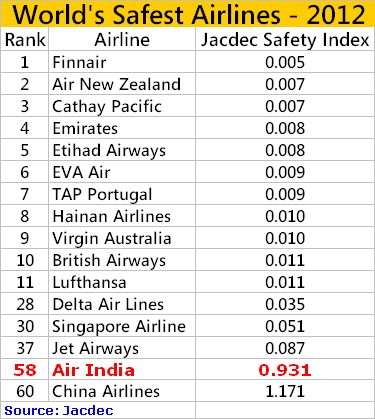 JEDCO's ranking is based on annual safety calculations that include all hull loss accidents and serious incidents in the last 30 years of operations in relation to the revenue passenger kilometers (RPK) in the same time.
Besides taking into account international safety benchmarks such as the IOSA Audit and the USOAP country factor, JEDCO has included a time weightening factor to increases the effect of recent accidents and weakening the impact of accidents in the past.
Overall, JEDCO tallied up 496 passenger fatalities with 44 hull loses in 2012, marginally better than 2011.