Like most things connected to media mogul Rupert Murdoch, his Fox News TV channel is a piece of crap with its unabashed, reckless love of the Republican agenda and relentless bashing of Democrats and their leader Barack Obama.
But we live in a world where large numbers embrace garbage with open arms (just look at the Indian fondness for their trashy movies).
Given people's love for garbage, not surprisingly, Fox News is a big force in America with millions tuning in daily to watch the faux news channel and its bunch of high-profile hosts like Sean Hannity, Bill O'Reilly etc and guests/commentators like Karl Rove, Sarah Palin (recently retired), Ann Coulter and Michelle Malkin.
Down, Down, Down
The good news is that the number of idiots trusting Fox News has come down to a record low of 46% in a recent poll by the Public Policy Polling organization.

In 2010, 39% of voters did not trust Fox News.
So the new poll must be disturbing to the top honchos at Fox News.
A highly profitable source for Rupert Murdoch, Fox News is headed by Roger Ailes, a media consultant for three former Republican presidents Richard Nixon, Ronald Reagan and George H. W. Bush.
I've often wondered if Fox News is pandering to idiots or brainwashing normal people into blithering idiots who'll believe any crap the TV channel shoves down their throat.
The reason I slam Fox News viewers as idiots is because the channel enthusiastically supports the Republican party, which is primarily focused on the welfare and well-being of the rich, super-rich and mega-rich (folks like the defeated Republican candidate Mitt Romney).
The Republican Party has no concern for the interests of the middle class and the poor, which comprise the majority of Fox News' viewer base that has suffered as a result of Republican policies.
Who Won?
PBS won the poll with 52% of voters affirming their trust in the news channel.
By the way, PBS was the sole news channel that more Americans trust than distrust.
I must admit I have rarely watched PBS.
But in my defense, I'll say that I don't watch much TV preferring to get my news off the Internet.
Depressing
Now comes the depressing aspect of the poll.
When Americans were asked which single outlet they trust the most and least out of the TV channels they were polled on, Fox News comes up tops.
Sadly, 34% said Fox was the one they trust the most, compared to 13% for PBS, 12% for CNN, 11% for ABC, 8% for MSNBC, 6% for CBS, and 5% each for Comedy Central and NBC.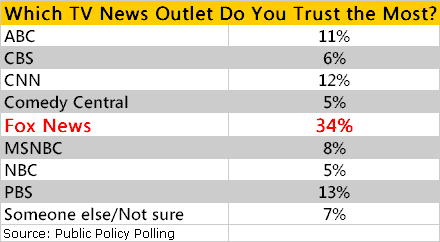 That so many Americans trust the Fox News channel is cause for alarm, more so when the nation faces so many serious challenges like high unemployment, crumbling infrastructure, runaway defense spending and high debt.
Public Policy Polling's survey also showed that the majority of those who trusted Fox News voted for the Republican Presidential candidate Mitt Romney.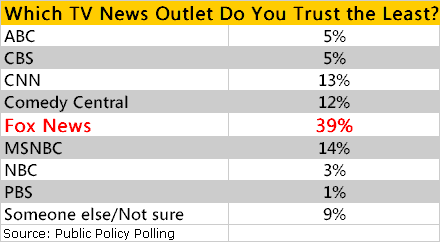 Guess, there's not much hope for America as long as citizens get the news they depend on to make their voting decisions from a TV channel like Fox News that never misses an opportunity to spew misinformation and disinformation.