Two central tenets of the H1B specialty worker Visa program are that America has a shortage of specialty workers,  particularly in fields like science, technology, engineering and math (where the U.S. has been badly lagging Asian nations in recent years) and the need to get the best and brightest here to boost our nation's competitiveness.
Not surprisingly, a big chunk of the H1B Visas issued every year goes to computer programmers, engineers and scientists.
But H1B Visas have had a devastating impact on America's engineering and programming community who have been cast aside for lower-paid H1B workers.
Knowing that there is a deluge of H1B workers entering the country every year, fewer students are entering computer science and engineering programs in the U.S. resulting in a perverse, greater dependence on the H1B Visa program.
H1B Visa – Multiple Problems
* First, the hit on American workers because H1B workers can and are often paid less than a U.S. worker in the same occupation and locality (Source: Economic Policy Institute).
* Second, H1B Visas are just a revolving door, where guest workers come on short-term visas, learn the job, gorge on dum biryani and chowmein, feast on Allu Arjun and Jackie Chan films and take the job back to India or China.
* Third, the U.S. does not really benefit from the so-called talent of these specialty workers because very few of these H1B Visa holders get Green Cards and stay here permanently (see below table). I'd say the H1B Visa program is actually reducing American competitiveness in the global arena since the workers are picking up advanced skills in the U.S. and taking it back to their low-wage nations.
* Fourth, given the young age of a lot of the H1B workers it's doubtful many of them come here with 'special' greatly needed skills. Most likely, the majority are doing basic, entry-level tasks that could easily be performed by American workers if they were given the opportunity.
* Finally, the program has led to massive Visa fraud in credentials and documentation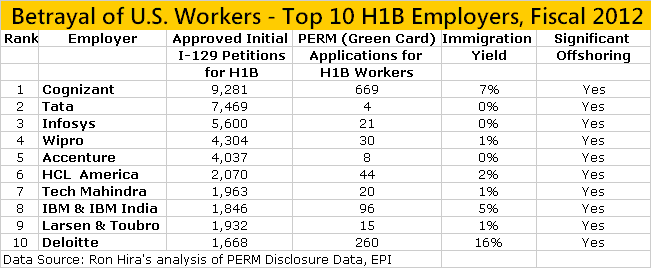 Bonobos in Congress – Making it Worse
One of the distressing aspects of American politics is we have bonobos in high office constantly looking to screw American workers.
For the benefit of schmucks, let me explain that bonobos are small chimpanzees with an IQ in the 35-49 range (i.e. moderately retarded).
What makes it worse is that these bonobos in Congress are also beholden to every vested interest in the nation.
Now these bonobos in Congress are planning to raise the H1B Visa quota per year from 85,000 to 300,000 (400,000 in some accounts) by way of the I-Squared Act.
We think that's a wooly-headed move that does little good to American workers o America's competitiveness.
If America is to really benefit from the talent pool overseas, we must issue them Green Cards in an expedited manner.
But that is unlikely to happen for two reasons – first, the balance of power is heavily in favor of the wealthy corporate patrons of the bonobos in Congress and second, the American voters are too stupid to realize they're being screwed.