Some corporations are like some people – Utter weirdos in their insatiable masochistic appetite for pain.
Not content with failing miserably in its earlier consumer tablet outing, HP today announced plans to ship a new Android tablet, the Slate 7.
Based on Android OS 4.1 Jelly Bean software, the 7-inch Slate 7 costs $169 and is set to ship in May.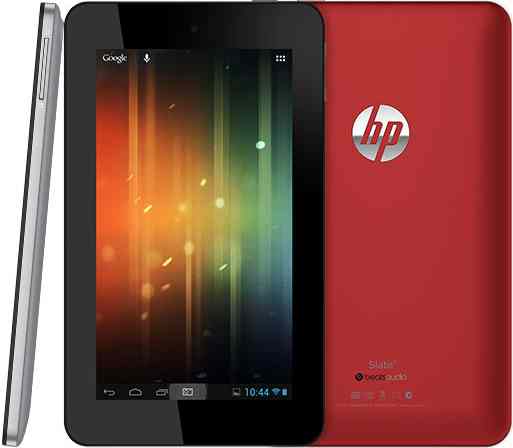 Slate 7 – Will History Repeat Itself?
I've taken a look at the specs and design of Slate 7 (see picture above) on HP's web site and nothing I see leads me to believe the company's second tablet outing will be any less disappointing than the first.
Slate 7 Specs
Running an ARM Dual Core Cortex-A9 1.6 GHz processor, the WiFI-based Slate 7 weighs 13-ounces.
There's a microSD card slot to let users add more storage and transfer files.
Slate 7 includes the Beats Audio technology that supposedly offers better sound through a software equalizer.
The tablet features a stainless-steel frame and is soft black paint in gray or red on the back.
Like most tablets these days, the HP Slate 7 comes with front and back cameras. It's a 3-megapixel camera on the back and a VGA camera on the front for video chatting.
HP's ePrint application will let users print at home or on the go.
HP says the Slate 7's High-aperture-ratio Field Fringe Switching (HFFS) panel will offer wide viewing angles for easy viewing of documents, games, photos and videos including in outdoor lighting.
It's not clear whether there will be a Slate 7 version with 4G/LTE for Internet access on the road. Presumably, HP will offer a WiFI plus cellular version of the Slate 7 for a higher price.
No word on Slate 7's display resolution or the internal storage.
Riding on Google Coattails
HP is making much of Slate 7 delivering the "Google experience" via easy access to services like Google Now, Google Search, Gmail, YouTube, Google Drive, Google+ and Google Play (for the apps).
These Google services are hardly great differentiators for HP considering Android tablets like the Nexus 7 tablet already offer them. Nexus 7 costs $199 for a WiFi only tablet with 16GB of storage.
Plus, Gmail, YouTube, Google Search, Google+ and Google Drive are also available as apps for the iPad.
Competition
In the tablet universe, the primary player and the 800-pound Gorilla that every vendor must contend with is the Apple iPad, which comes in two sizes 9.7-inch (iPad 2) and 7.9-inch (iPad Mini).
Despite a far higher price, the iPad has crushed the rest of the players and forced them into desperate measures like price cuts to move their devices.
A reputation for better quality, more dedicated tablet apps (over 300,000) and the power and mystique of the Apple brand has benefited iPad at the expense of its rivals.
Android has been found wanting when it comes to tablet-optimized apps.
The iPad Mini starts at $329 and the larger-screen iPad 2 at $499.
TouchPad Disaster
HP's first tablet outing with the TouchPad was a total disaster.
Unlike the Android-powered Slate 7, the TouchPad was based on the company's webOS software.
Poor consumer acceptance compelled HP to have a fire sale and dump its TouchPad inventory for $99 a piece in 2011.
TouchPad tablet was a multi-billion dollar screw-up for HP since webOS software alone had cost the company $1.2 billion (via the acquisition of Palm, makers of webOS).
Add development, marketing and other other costs and the red ink because of the TouchPad fiasco surely went north of $2 billion.
Bottom Line
With little to distinguish the Slate 7 from the competition, it's hard to see how HP can make much headway with the new tablet.
By the way, HP also offers a Windows 8-based tablet, the ElitePad, for enterprises and governments.
In the countless times I've gone to BestBuy, I've always seen visitors hovering around the iPad tablets and none near the competition's offerings.
Office supplies chain Staples is set to join the list of Apple retailers soon expanding the reach of the iPad.
Bottom line, I expect the outlook for HP's Slate 7 tablet will not be great.
Related Posts: