The unassailable proof that smartphone prices will tumble heavily in the coming years is the projection that the largest growth in smartphone shipments over the next four years will happen in India.
Between 2013 and 2017, smartphone shipments in India are projected to grow 459.7% (source: IDC). Unlike the barebone feature phones, smartphones let users browse the web, watch videos, play games, video-chat and do so much more.
Now we all know that the majority of chutiyas a.k.a. Indians are the cheapest SOBs ever to walk this planet or any other.
As an ethnic group, Indians are highly price-sensitive and will shop till they drop for the cheapest price for any product or service. Even if they drool over an expensive gadget, they'd rather steal or just keep drooling than buy it.
Another reason smartphones have not taken off in a big way in India is that they're priced too high for the market. That's why the majority of Indians still use feature phones that are designed primarily for making calls and texting.
Sure, there are some Indians who have already purchased smartphones lured by their slick design, web browsing and video capabilities as well as the cachet an expensive device offers in a poor nation where most people still live on less than $3 a day.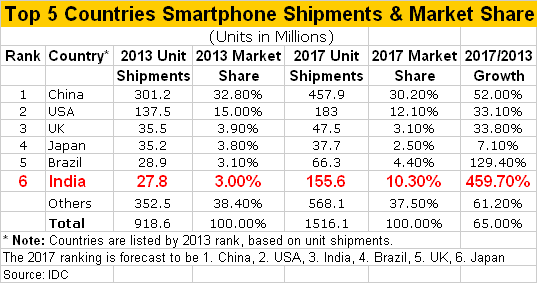 So if IDC is right in projecting that the biggest growth in smartphone shipments from 2013-2017 will come from India we can safely predict that the major reason will be lower prices.
Despite the projected 459.7% growth in smartphone shipments from 2013-2017, smartphones will still account for less than 50% of all mobile phones in five years.
The biggest driver in smartphone growth in India is likely to be Android devices rather than Apple iOS owing to the high price of iPhones.
Unless Apple offers a cheaper version of the iPhone for developing markets to stem falling market share, it'll be hard for the company to gain marketshare. Apple currently has 5% of the Indian smartphone market compared to 40% that Samsung commands, according to a recent story in the Wall Street Journal.
Here's what IDC had to say on the growth in smartphones in India from 2013-2017:
India's year-over-year smartphone shipment growth will be the highest among the top countries by a wide margin as the vast majority of the country's wireless subscriber base currently use feature phones. The smartphone market will grow due to a variety of factors including greater availability of low-cost devices and additional sales emphasis by top-flight vendors on less populous parts of the country. In addition, 3G network coverage will continue to expand while 4G networks are expected to stimulate smartphone growth from 2015 onwards.
Impact of Smartphone Growth
Explosion of smartphones in India will have consequences, some of them unintended.
* SI expects growth of smartphones in India will further change the nature of prostitution in the country. Randis (hookers) will become more adventurous and enterprising and offer see-before-you-buy videos and pictures for potential clients. Pimps will be at a disadvantage as hookers and johns seek to eliminate the middleman. By the way, a 2012 study by a team of researchers in Delhi, New York and Winnipeg (Canada) found cell phone use in soliciting customers is associated with increased HIV risk behavior among female prostitutes.
* The growth of smartphones in India will impose tremendous strain on the network infrastructure of carriers like Reliance, BSNL, Airtel, MTNL etc as more people use their smartphones to browse the web, ogle at hot film stars like Kajal Aggarwal, Ranbir Kapoor, Samantha, Tamanna Bhatia et al, send e-mail, make video calls, read e-books, watch movies and, of course, overdose on porn.
* Given that Indians are habituated to paying low tariffs for their mobile phone service, the impact on Indian carriers is sure to hit their profitability. So if you own stocks of Indian mobile carriers, start dumping them as you near 2016. If you don't, you can always short them. Carriers can minimize the hit by removing the free in-coming calls for smartphone users.
* Growth of smartphones in India will also have other unpleasant effects. Unlike the U.S., printed newspapers are currently thriving in India. But the greater adoption of smartphones and growth of broadband will put Indian newspapers under considerable pressure.
* With growth of smartphones, we expect online banking and payment transfers via cell phones will see a big boost.
* Social networks like Facebook and Google + could see an explosion of new users from India as millions living in tier-2 and tier-3 towns leapfrog PCs to smartphones in the mobile era.
* Bollywood entertainment moguls will start offering content optimized for smartphones.
Smartphones Beat Feature Phones
The end of feature phone is accelerating all over the world for two reasons – smartphone prices keep dropping and more people in China, India and Brazil are earning higher-than-subsistence wages.
By the way, for the first time smartphone shipments will outstrip feature phones this year.
IDC forecasts that in 2013 mobile phone vendors will ship 918.6 million smartphones, accounting for 50.1% of the total mobile phone shipments worldwide.
By late 2017, 1.5 billion smartphones will be shipped worldwide, which runs to about two-thirds of the total mobile phone forecast for the year.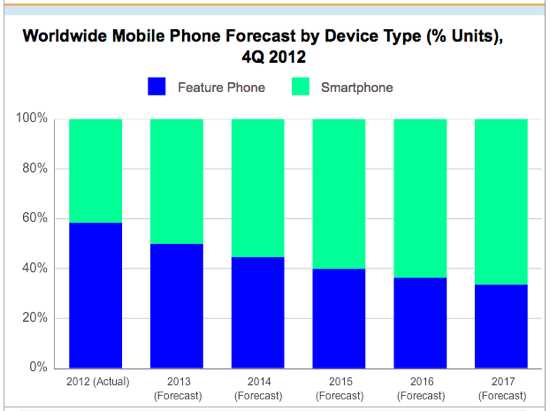 (Source: IDC Report)