The 315.5 million people in America have more than half a billion Internet devices at home, a new survey has found.
And according to SI's hypothesis,  the high Internet penetration in U.S. homes is one key reason why crime is so low in America despite the interminable recession, glaring income inequalities, high unemployment, low wages etc.
After all, if you're too busy moving the mouse, then you're not raping, robbing, assaulting, kidnapping or killing someone.
Hey, if  you're watching a Netflix movie, playing an Xbox video game with someone across the world, babbling on Facebook or sexting your titty pictures to your boy-friend, then you're less likely to be plotting or committing a crime or smoking pot, right?
A hand that's moving a mouse or clutching a tablet is not holding a gun or a joint!
Well, at least that's my logic!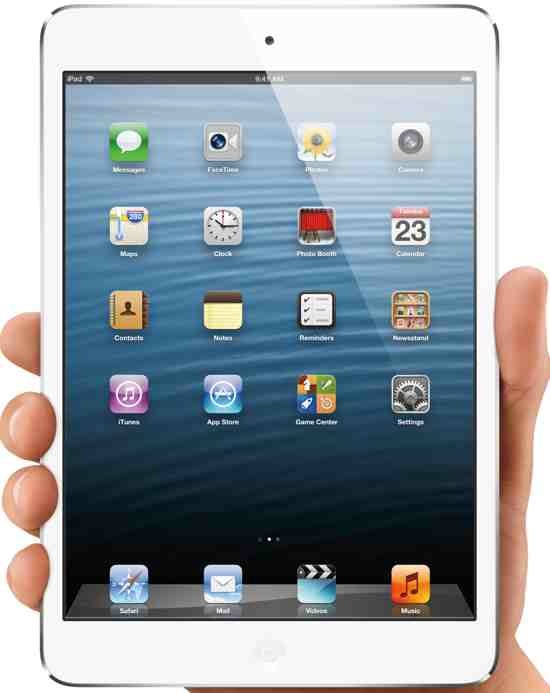 More Tablets = Less Crime?
India – More Internet, Less Rape
Now if only Mera Bharat Mahaan were to boost broadband penetration in the urban slums and rural hinterlands and make PCs and smartphones available at affordable rates, I suspect rape, murder and burglary rates will come down in the benighted land.
It's impossible to open an Indian news web site these days without reading multiple horror accounts of brutal rape and gruesome murder.
In the latest Indian rape episode, a Swiss tourist was gang-raped by four men in the central Indian state of Madhya Pradesh and her laptop and cell-phone stolen.
A lot of these savage rapes and assaults in India seem to be committed by semi-literate half-wits with far too much time on their hands.
If you want crime rates to plummet in India, give these dimwits an Internet device and see the Bhaiyyas, Biddas, Porikis and assorted Indian chutiyas turn into bovine bozos drooling over Sonakshi Sinha's udders or jumping in glee over some silly video game.
Better the Indian idiots drool over Sonakshi's udders than rape some poor Amanat and shove an iron rod up her twat!
SI's hypothesis is that South Indians are more Web addicted and tend to spend greater time in front of computers salivating over Samantha or Anushka Shetty or, at worst, twiddling with their smartphones for the latest on Telugu Bidda Raghunandan Yandamuri or Ulaga Madayan's Vishwaroopam.
Is that why we don't see as many horrific accounts of rape and murder in South India?
U.S. Smartphone, Tablet Explosion
Back in the U.S., smartphones and tablets are driving the explosion of Internet devices at U.S. homes, according to market researcher NPD.
Internet devices that deliver broadband applications include PCs, tablets, smartphones, HDTVs, Blu-ray Disc Players, video game consoles and streaming media set top boxes like Roku and Apple TV.
In just three months, from the fourth quarter of 2012 to the first quarter of 2013, the number of connected devices per U.S. Internet household has grown to 5.7, up from 5.3 devices.
During this period, the installed base of tablets rose by 18 million and there are nearly 9 million more smartphones users.
Apple and Samsung remain the key smartphone brands while Apple continues to dominate the tablet market.
Although PCs continue to be the most connected device in U.S. Internet households, the combined number of smartphones and tablets has recently exceeded the installed base of computers.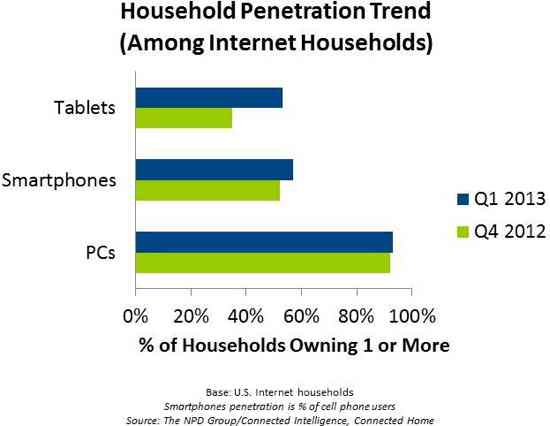 For the survey, NPD queried 4,000 U.S. consumers, age 18 and older in the first quarter of 2013.
By the way, Smartphone penetration continues to be very low in India.
Screen Addiction – Good
Bottom line, in SI's not-so-humble-opinion a nation that puts more PCs, smartphones and tablets in front of its citizens is a safer country than one that does not.
Now, if only we could find a way to get guns out of the hands of the rednecks and loonies in the U.S.