If there's one thing desis in America love more than their children or parents, it's saving money!
So here's an attractive deal that's hard to beat.
I'd even go so far as to say it's a Great Deal!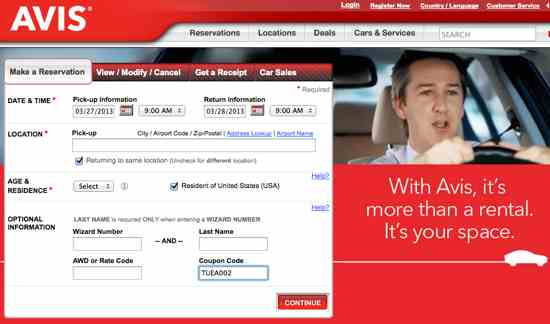 Car rental service Avis has an excellent deal where you can get a weekend deal for free, almost.
You just pay some taxes that should work out to no more than a buck or two.
Here's the link to the Avis Weekend Deal.
Enter coupon Code: TUEA002
The deal should work for cars from sub-compact to full-size.
My understanding is that the weekend deal is valid for rentals up to June 30, 2013.
Don't be scared by the prices displayed on the main screen because they will be adjusted on the next screen after you hit the "continue" button at the bottom.
Caveat Emptor
As always with any deal, there will be some catches and fine print.
Make sure you understand what you're signing up for thoroughly before clicking on the Reserve button.
I'm sorry I don't have any "Free Gas" deals for you! 😉
UPDATE – Avis Tricks
Avis canceled our reservation on March 27, 2013, more than 24-hours after it was fully confirmed and approved!
We think Avis is playing games, trying to collect personal information from potential customers for nefarious ends.
Please do NOT TRUST any Avis reservations. If you're making a car rental reservation, think Hertz, Enterprise or any of the other companies.
Here's the full text of the Avis e-mail we received at 10:45PM on March 27, 2013:
Dear XXXXX,

At Avis, our goal is to provide a stress-free rental experience whenever you need a rental car. Upon review of your recent reservation, XXXXXXXXUS4, it has come to our attention that the discount code you have entered is invalid, and so your reservation has been tentatively cancelled. If you have a valid coupon certificate, we are ready to restore your reservation. Please note, you must present your valid coupon certificate at time of rental. Prepaid reservations will be refunded in full and no cancellation charges will be assessed.

If you would like to recreate your reservation, you may do so by visiting Avis.com or calling 800-633-3469.

We apologize for any inconvenience this cancellation may have caused. We appreciate your business and look forward to serving you in the future.
Screw Avis!