I imagine saying those words – "My family, they are all dead, in an instant they vanished" – and I reel.
– Sonali Deraniyagala in Wave (p.116)
I don't understand all this hype about Sonali Deraniyagala's book Wave.
Maybe, it's because Sonali lost all her dear ones (husband, two young sons and both parents) in one go.
After all, it's not every day you hear of someone losing multiple family members together.
To bear the death of one close family member is hard enough but that of many inevitably turns one's thoughts to suicide (as it did for our Sonali).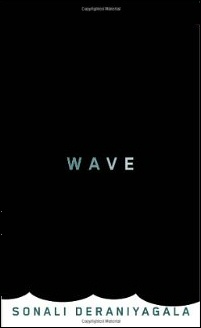 Like Us
Or maybe the hype is because most readers and reviewers of the book feel a sense of comradeship with one of their own.
An author who is like them, an educated middle class or upper class person.
No wonder the Delhi rape incident in December 2012 triggered such a big hue and cry, resonating with the self-absorbed, callous Indian middle class like few horror stories ever do in Mera Bharat Mahaan.
Because the rape victim was so like the Indian media people writing about her and the Internet audience reading about her, she became an instant heroine to hundreds of millions rousing even the pusillanimous somnolent Indian Prime Minister Manmohan Singh to issue a statement.
Thousands of poor folks die every day under terrible circumstances in India and elsewhere.
Many meet a sad end after enduring death by a thousand cuts. Yet no one gives a fig for them because they're not like us!
To gain our attention and to attract our sympathy, you must be like us!
Only then can we identify with your suffering!
Countless people die every day, both deserving and undeserving, but we won't care. Hell, we won't even move the mouse unless you happen to be like us.
Get it?
And if you are like us, then we'll make such a song and dance about your loss, your God Almighty suffering and elevate you into a heroine!
Great Loss
Wave is Sonali Deraniyagala's 227-page memoir about her great loss.
In its essence, the book is a boring, tiresome outpouring of grief!
Yes, in just a few minutes on the morning of December 26, 2004, Sonali Deraniyagala's life was turned upside down.
Not merely literally but in a life-altering sense for her.
Flung out of the jeep she and her husband and children were fleeing in to escape the approaching giant tidal waves, the tsunami in Sri Lanka spared Sonali; but snatched her husband, her two young boys, and the parents she'd thoughtlessly abandoned at the Yala hotel in a South-Eastern Sri Lanka wildlife resort they were all vacationing in, to a watery grave.
But let's keep things in perspective, shall we.
Sonali's husband Stephen Lissenburgh, sons Vikram and Nikhil (Malli) and parents Gemini and Edward Deraniyagala were merely five of the 35,322 deaths caused by the tsunami in Sri Lanka alone.
Overall, the tsunami claimed a quarter-million lives (the majority in Indonesia, Sri Lanka, India and Thailand).
But at least Sonali and her loved ones had a good life, for the most part, unlike countless millions in South Asia, before the calamity. Wonder, of how many other tsunami fatalities in Asia we can say the same!
Tidal Grief but Not Moving
Does the book make for engrossing reading?
Not for me!
I was rarely, if ever, moved by Sonali's account of her pre-tsunami happy life.
The prose doesn't jump out of the pages and the overall quality of writing is merely above average.
And even for a memoir, I was drowning in the I, me, my and mine littering every paragraph of the book.
The book integrates Sonali's endless moaning with snippets of the lives of her husband Steve, their children, and her parents, her childhood in Colombo, the family's lives in London, the vacations back in Colombo blah blah blah to the point of ad nauseum.
Just because the Sri Lanka born Sonali happens to be an upper class, well-educated woman with a British husband, her outpouring of grief gets a sea of attention from the literati.
The gushing reviews are coming in for the book like the tidal wave that extinguished Sonali's family, and the comments are invariably about how "heart-breaking" it must be for the poor woman.
The book has struck a chord with many readers who, perhaps, right at this moment are telling their friends, Ah, the poor thing. She lost everything in the tsunami.
My unrequited advice to the Sonalis of the world – Be thankful for the blessings you have and stop whining when it's taken away from you.