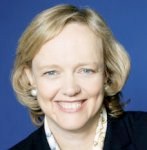 HP is on a downward slide that not even the combined powers of Jesus, Allah and Krishna can arrest.
The Silicon Valley company that once inspired countless entrepreneurs including the late Steve Jobs has no hope in hell of extricating itself out of the sinkhole it's trapped in.
HP's inevitable miserable destiny proves that big corporation staffed with overpaid, hyper-ambitious, clueless executives are as dumb as you stupid fucks once you look beyond their phony smiles, smug attitudes, expensive suits, the corporate mumbo-jumbo they spout and the overpriced acquisitions they make.
Missed Mobile Revolution
When all the world is agog over iPhone 5, Samsung Galaxy 4, next generation iPhone, iPad Retina, iPad Mini, Android etc, HP has completely missed the ongoing mobile revolution.
HP is nowhere in the picture!
Nothing to sell in the mobile arena!
Zip! Nada! Zilch!
When the BBC recently asked HP CEO Meg Whitman if HP would make a mobile phone, this is what the hag had to say:
We want to. Because it's a very import part of personal compute. What we haven't figured out yet is how to do that without just being a me too product….So we've got our best people thinking through, ok, what is the HP play in that part of personal compute a smartphone or its next incarnation.
Take your time, Meg.
What's the big hurry?
After all, Apple has sold only 319 million iPhones so far. 😉
Samsung's Galaxy 4 smartphone will doubtless create a frenzy when it hits stores this month.
All while HP's "best people" are still "thinking through" their mobile phone moves.
HP once had a strong R&D and engineering team that was the envy of the computer industry.
But all that is history.
Today's HP is not even a shadow of its old-self!
No Hope in Hell
I've long considered Meg Whitman a much overrated executive who was lucky to land at eBay when it was still a fledgling company.
It's highly unlikely that Meg Whitman will be able to pull off a turnaround at HP.
Since Whitman was named CEO about 19-months back, I've seen little to suggest that HP has a future.
To be fair to Meg, she inherited a lot of HP's problems (since she was on the company's board before becoming CEO she shares some blame for even the inherited problems).
But she's done little so far to lay out a new path to the future!
Even after a sharp decline in its stock price in recent months, Apple's market capitalization at $408 billion is 10 times that of HP.
The smart money sure knows HP is on its way down!
Down, Down, Down
In HP's fiscal first quarter of 2013, the company's PC revenues were down, printer revenues were down, server revenues were down, storage revenues were down, enterprise service revenues were down, technology service revenues were down and software revenues were down.
To compound HP's problems, the PC business is cratering worldwide.
If HP survives in its present form beyond a few years, I'd be extremely surprised!
Related Content: