If SI has said it once, SI has said it a million times.
There's no better or safer mobile platform than iOS, Apple's tightly controlled operating system for iPhones and the iPad tablets.
A new study has come out on mobile platform security and if you're an Android user I'd strongly recommend you start rolling your weed to calm your nerves before reading any further.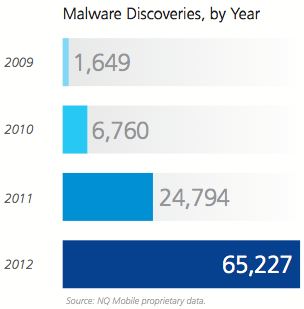 Android – No-1 Malware Target
In 2012, Android continued to be the favorite choice of the whackos, crackheads and the Dr.Hannibal Lecters.
According to the NQ Mobile's 2012 Security Report, 94.8% of malware discovered in 2012 was designed to attack Android devices compared to a mere 4% that targeted Symbian.
The NQ Mobile folks estimate infected Android devices rose in excess of 200% in 2012 – Over 32.8 million Android devices were infected in 2012 compared to 10.8 million in 2011.
There are three reasons why Android continues to be the favorite haunt of the nut jobs and the Hannibal Lecters.
First, a lot of Android users continue to run older versions of the software – More than 39% of Android users are still using Gingerbread, which lacks the major security updates of Ice Cream Sandwich and Jelly Bean.
Second, sideloading of apps from third party marketplaces (the process of download and installing mobile apps outside of Google Play) is exacerbating the malware epidemic among Android users. Apparently, the majority of malicious apps are hosted at third party Android marketplaces.
The younger generation of smartphone users, i.e. those in the 13-17 age group, are more likely to download apps outside of the relatively safe haven of Google Play.
India Hit Badly
India is one of the biggest victims of the mobile malware explosion.
NQ Mobile estimates that 19.4% of infected devices were in India.
Mera Bharat Mahaan was second only to China in number of infected devices.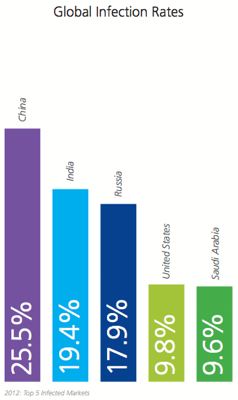 Given my suspicion that a lot of malicious online attacks originate in China, it's no surprise that the highest number of infected devices (25.5%) are in that nation.
You may consider it the Basmasura Effect or the Law of Unintended Consequences.
How Devices get Infected
App repackaging, malicious URLs and smishing are the three major ways mobile devices pick up malware.
In app repackaging, which is how most infections happen, criminals add lines of malicious code into a genuine app and repackage and reload it onto a third party marketplace for victims to download and install. Once the unsuspecting victim has installed the app, it works in the background to collect user data, change user settings, or remotely control the device to send SMS messages.
Smishing a.k.a. "Toll Fraud" is lucrative to criminals, generating up to $4 USD per SMS. Combining social engineering (phishing) and SMS, smishing tricks consumers into clicking on a malicious link.
Malicious URLs redirect a user from a genuine web site to a clone where the victim's personal information is stolen. Oftentimes, this involves misuse of stolen information for withdrawing money from banks and other financial institutions.
Other Concerns
* Mobile malware increased 163% in 2012 to 65,227
* 65% of malware discovered in 2012 falls into the broader category of Potentially Unwanted Programs (root exploits, spyware, pervasive adware and Trojans)
* 7% of malware was designed to "brick" a user's device, i.e. make it stop working
* VDLoader, a malware affecting Android devices, can hide within genuine apps and has the ability to upgrade itself
Thank You, I'll stick to my trusted companion iPhone 4.