Thank God, bulletproof devices are no longer the exclusive preserve of policemen in hot pursuit of deadly criminals brandishing lethal weapons.
Bulletproofing Kids & Teachers
Now precious tiny tots in schools and their priceless teachers can also buy bulletproof products that can stop a bullet fired from a 9 mm to a .44 mag round at point-blank range.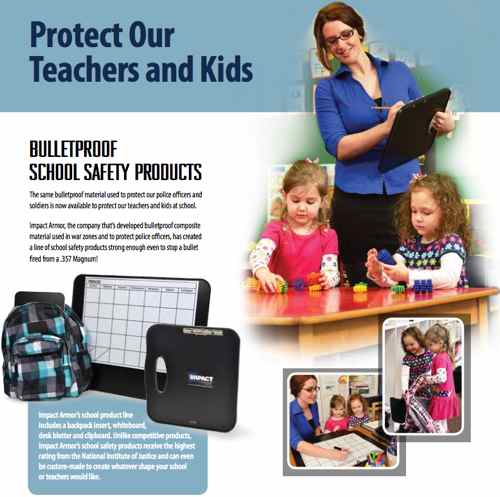 Cleveland, Ohio based Impact Armor Technologies has introduced a school safety line comprising of a bulletproof desktop calendar, a bulletproof whiteboard and a bulletproof backpack insert to stop bullets at point-blank range.
Apparently, these products for school children and their teachers are built from the same composite material as the company's bulletproof clipboards used by cops to protect themselves on the streets and the door inserts that soldiers on the battlefield use for protection against IED roadside explosive devices.
Bulletproof products for kids and teachers come in standard sizes but they can also be custom made as per your specifications.
God Bless America!