May I ask you schmucks a question.
What would you think if you learned that Bollywood's numero lasto Abhishek Bachchan is being paid more than Aamir Khan for Dhoom 3.
You'd rightly assume the chutias are indeed running the Bollywood asylum! 😉
Now you can understand my perplexity when I heard this cockamamie nonsense of a remote control costing more than a cool-looking, new 32-inch Sony, LG or Panasonic LCD TV.
Logitech has just put out a new version of its fancy Harmony remote line and it costs, hold your garlicky desi breath now, a whopping  $349.99.
No kidding, the new Harmony Ultimate remote control will deplete your wallet of $349.99!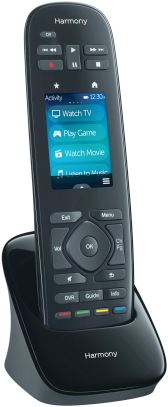 Remote Features
Designed to control up to 15 devices, Harmony Ultimate comes with a customizable 2.4-inch color touch-screen for "no-look control" of TV programs, movies and music through swipes and taps.
If you're the sort to be easily impressed with big numbers, the new remote is supposed to be compatible with 225,000 home entertainment devices spanning 5,000 brands.
Logitech is touting Harmony Ultimate's capability of programming Philips Hue lighting systems so that you can "adjust your lights to set the mood."
The remote comes with a companion Harmony Hub device that leverages Bluetooth to turn on game consoles like Sony PS3, Nintendo Wii and Wii U. Harmony Hub also controls infrared devices inside closed entertainment cabinets and without the need to point at them (pray, tell me how difficult is it to point a remote at a home theatre or DVD player?).
There's also a Harmony Smartphone App to turn your OS or Android smartphone into a personal universal remote.
Explain why I need the Harmony Ultimate if my Harmony-enabled smartphone can do the trick!
Perhaps the $350 remote will give me all the bells and whistles I don't need!
Other features of Harmony Ultimate include vibration feedback so you know the remote actually received your touch-screen commands, tilt sensors and buttons programmable for both short and long presses, which double the available functions.
Harmony Ultimate should be available in the U.S. and Europe in May.
Call me nuts if you want to but if even the Harmony Ultimate gives me a massage, I ain't paying $350 for a remote!