You can never have too much of cheap or free stuff, right?
While I can't get you greedy Indian savages free movies, I can point you to a deal at M-GO streaming service that offers recent Hollywood movies for a mere 99-cents per film.
Now that's what I call a good deal! 😉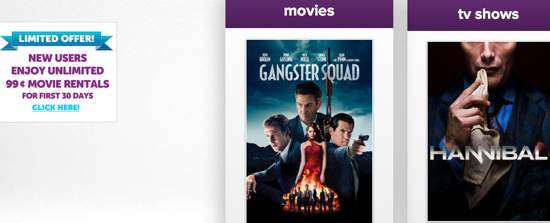 Once you get a rental, you have 24-hours to watch the film. You can view it as many times as you like during the 24-hour rental period.
By the way, M-GO has impressive pedigree. The fledgling is a joint venture between DreamWorks Animation and Technicolor.
While M-Go's movie collection is not as comprehensive as Netflix', it does have some fairly recent movies like Django Unchained, Gangster Squad, Broken City etc, movies you're unlikely to get elsewhere on streaming (on DVD, you can get them for sure at other places like RedBox or Netflix).
Netflix offers both DVDs and streaming under separate plans. But Netflix' streaming collection, rarely, if ever, has new movies or TV shows.
Amazon streaming is not even in the same league as Netflix!
Catch
So what's the catch with M-GO's 99-cent deal, says you?
Well, the 99-cent deal is just for one-month and applies to Standard Definition movies only. High Definition movies are $1.99 under the 30-day promotion.
Plus, the 99-cent deal is only for movies and not for TV shows.
Yeah, I can hear you sick desi whackos whining at the injustice! 😉
Regular rental charges for new releases at M-Go are $3.99 for SD movies and $4.99 for HD movies.
Older film rentals at M-GO are cheaper (for example, ET is $2.99, Harry Potter and the Goblet of Fire costs $1.99 and Tin Cup is 99-cents).
M-Go Streaming Performance
I tried two movies at M-GO on the Mac (with the Firefox browser) and except for some minor hiccups they worked well.
My picks were Django Unchained and Shanghai Calling.
With both movies, the streaming stopped once.
When I tried to resume it by pausing and playing again, the movie jumped ahead and I had to rewind.
Before you can start streaming a movie at M-GO you have to download a digital rights management plugin called Widevine (a Google company). That went smoothly on the Mac and I presume Widevine works well on the Windows platform too.
Devices Supported
Besides PC and Mac desktops, M-GO is supposed to work on Android and Apple iPad tablets via the browser
When I tried M-GO on the iPad 2 through the Safari browser it didn't work.
After doing some research, I learned that M-GO only supports iOS 6.x or higher.
Alas, my iPad 2 is still languishing on iOS 5.0.1. I have not updated the iOS software in the iPad 2 because of widely reported issues of battery degradation with iOS 6.x.
Although there are no parental controls at present, you can create up to six profiles per account (admin plus five others).
Indian Content
If you're looking for tons of Bollywood movies, then M-GO is not for you.
I found only two Hindi movies (Rajneeti and Peepli Live) while searching under the "Foreign" genre of movies. There was also a Mira Nair movie (Monsoon Wedding).
However, if you're willing to look beyond Indian films there are some fine foreign movies in the M-GO collection like Sin Nombre, In a Better World and The Man from Nowhere.
Competition
Besides Netflix, M-GO has to contend with competition from RedBox (DVDs and instant), Amazon (streaming) and Hulu (streaming only).
While Hulu and Netflix streaming are subscription services that are not strong on new films, the RedBox kiosks offer new movies on DVD for $1.29 for 24-hours. To get Amazon streaming, you have to fork out $79 annually for the Amazon Prime two-day shipping service. I have tried Amazon streaming and would not recommend it because the content is mostly stale.
The problem with Netflix subscription (DVD version) is that there's usually a 'very long wait' or 'long wait' for popular movies.
Now you might argue that M-GO is not comparable with RedBox or Netflix DVD rentals since M-GO is a pure streaming play.
But consumers are unlikely to think along such 'format' lines.
In a depression economy, consumers look at price first and format (streaming or DVD) later.
Bottom Line
The advantages with M-GO are that there are no subscription fees, you get access to new movies and a device-agnostic platform (Windows and Mac PCs, multiple browsers and tablets).
Plus, as I can vouch there is live human support even over the weekends.
M-GO's negatives include lack of support for popular set-tops like Roku for easy streaming directly to television sets although it's supposed to work with Google TV.
Also, not all movies are available for renting at M-GO. Some are offered only for purchase.
M-GO is currently targeted at U.S. residents but the company is eying international expansion.
If you're looking for a non-subscription based movie service for new movies and TV shows, I'd encourage you to check out M-GO.
But remember the 99-cent deal is only for newcomers and lasts only 30-days.
Here's the link for M-GO's 99-cent deal.
I plan to keep M-GO (along with my Hulu streaming and Netflix DVD subscriptions) and check it out once in a while.