Smartphone vendors shipped 216.2 million units in the first quarter of 2013, the first time that over half the total phone shipments in a quarter were smartphones.
In the first quarter, smartphones accounted for 51.6% of all mobile phone shipments, according to market researcher IDC.
Chinese Danger
In a distressing development, two Chinese vendors Huawei and ZTE are among the top five smartphone vendors.
Given that Chinese brands operate completely under the diktat of the government, it's not unrealistic to expect the military will force manufacturers to install backdoor exploits on smartphones meant for countries like India.
Unlike feature phones, smartphones can "call home" for updates via the Internet and can be exploited by the Chinese government and military for nefarious ends.
Indians are better off buying South Korean smartphones or Apple if they can afford it.

Beginning of End
Higher shipments of smartphones vis-a-vis feature phones in Q1 is a landmark event in the mobile phone business as it heralds the looming replacement of a single purpose device (phone) by a multipurpose device (computer).
I cannot imagine feature phones being around for more than two years.
Users are no longer content to have a device in their pockets or bags that can only make and receive phone calls.
Consumers want a phone that can browse the web, take high-quality pictures, send and receive e-mail and text, give them the weather, serve as a GPS, play music and video and do a thousand other things.
In short, mobile phone users want a computer in their pocket. After all, that's exactly what a smartphone is – a mini-computer that also doubles as a phone.
Samsung is King
Samsung continued its leadership of the smartphone business with a market share more than that of the next four vendors combined.
Samsung shipped 70.7 million smartphones to Apple's 37.4 million.
Samsung's new Galaxy S4 smartphone, which has just started shipping, will help to extend its lead over Apple.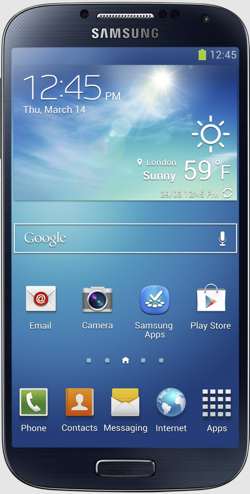 Hey, does anyone believe Blackberry or Windows phones will be around in three years. I'm not betting on them.
All Mobile Phones
Sales of all mobile phones, which include both smartphones and feature phones, were 418.6 million units in the first quarter.
Samsung was the leader in the overall mobile phone shipments too.