Remember the massive hype about Facebook Home and its initial launch on the HTC First Android mobile phone less than a month ago.
Mark Zuckerberg and his minions breathlessly declared at the Facebook Home unveiling on April 9 that mobile phones ought to be designed around people first instead of apps blah blah blah.
And bringing the supposed wonders of Facebook Home to the masses first was HTC First costing $99 (with a two-year contract) at U.S. mobile carrier AT&T.
HTC First is a 4.3-inch touch screen, mid-range smartphone running Android 4.1 JellyBean software with 16GB storage, a 5MP rear camera and a 1.6MP front camera.
Features wise, HTC First is not a bad phone but definitely not in the class of the far superior HTC One.
AT&T pitched the HTC First to potential customers above all as a Facebook Home phone providing a "mobile experience that puts your friends at the heart of your phone."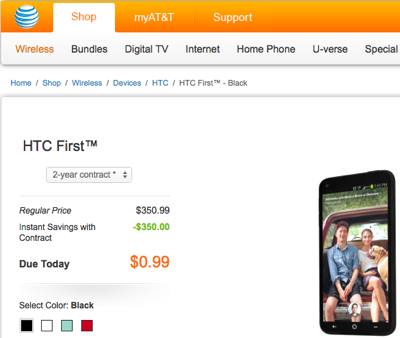 But you can only fool the sheep so much about the need to be constantly connected with your friends.
So less than a month after Facebook Home debuted on the $99 HTC First phone, AT&T has slashed the price of the device to, hold your breath now, 99-cents.
The unmistakable conclusion is that the appeal of Facebook Home was not compelling enough to persuade customers to buy the HTC First phone.
Facebook Home – Nonsense
Even as I watched Mark Zuckerberg's presentation last month and his spiel about mobile phones being designed around people first, I knew this Facebook Home user interface that layers on top of the Android device was not going anywhere.
People are not going to sacrifice the home screen to Facebook just to receive endless streams about their friends each time they look at their phones.
Remember, greater minds than Zuckerberg like Plato, Socrates, Galileo, Newton and Shakespeare were not "connected" all the time to their friends.
Facebook Home is basically a portmanteau of Facebook apps including Cover Feed (News Feed or the important stuff), Chat Heads (messaging or the supposedly critical stuff), notifications and an app launcher for your existing apps.
Besides the ho-hum reception to Facebook Home and HTC First device, HTC and its carrier partner AT&T were also hit by the greater appeal of the HTC One phone that has come out around the same time. HTC One does not have Facebook Home installed on it.
Here's the big challenge for Facebook now – if HTC First with Facebook Home is such a dud that it's being given away for 99-cents why would any other mobile phone vendor or carrier jump on the Facebook Home interface.