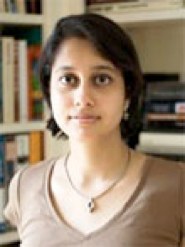 These days, Mera Bharat Mahaan has become a favorite whipping boy for all and sundry.
The latest to deliver a stinging slap on India's face is cute looking Indian-American Manjari Chatterjee Miller, an Assistant Professor of International Relations at Boston University and alumnus of Lady Shri Ram College, Delhi and Harvard University.
In an article titled India's Feeble Foreign Policy published in the latest issue (May/June 2013) of the respected journal Foreign Affairs, Manjari slams the mechanism by which the nation's foreign policy is made.
Manjari argues that India will not be a great power without a stronger foreign policy making apparatus.
Manjari writes that India's foreign policy is "highly individualistic" (essentially made by "overburdened" Indian Foreign Service officers) and marked by "absence of grand strategic thinking."
One reason Manjari cites for the absence of strategic/long-term planning – there are not enough Indian Foreign Service officers and the available few are preoccupied with mundane, day-to-day matters or "putting out fires" from crises.
She also faults absence of influential think tanks in India that can provide strategic guidance to foreign policy makers.  To Manjari, even respected think tanks Centre for Policy Research and the Institute for Defence Studies and Analyses lack clout.
Here's the essence of Manjari's criticism on India's foreign policy:
Countries that aspire to great power status usually look beyond tactical challenges, imagine a world that best suits their interests, and work to make that vision a reality. The problem for New Delhi is that its foreign policy apparatus is not yet designed to do that. India's inability to develop top-down, long-term strategies means that it cannot systematically consider the implications of its growing power. So long as this remains the case, the country will not lay the role in global affairs that many expect.
Weaknesses
* To lay readers, one of the glaring weakness of Manjari's article is the absence of examples to prove how the absence  of strategic thinking or long-term planning (assuming she is right on the absence) in foreign policy formulation has adversely impacted the country's standing in the international  arena. Without examples, Manjari's argument fail to convince readers that India is at a disadvantage or that the country has no strategic planning. Interviews with a few anonymous Indian foreign ministry officials are not enough.
* Second, she summarily dismisses the two units in India's foreign ministry that specifically deal with strategic planning, the Policy, Planning, Research Division and the Public Diplomacy Division as effete divisions "lacking clout" without offering any details. Nor does her article provide any suggestions to improve the influence of these divisions.
* Third, Manjari overplays the importance and benefits of think tanks in foreign policy formulation. The presence of countless think tanks in the U.S. has not prevented American foreign policy from being a disaster in the Middle East, Central Asia, South America and parts of Europe and South Asia (despite billions in aid to Pakistan, polls show majority of Pakis hate America). Since U.S. foreign policy is often held hostage by the military industrial complex, the pro-Israel lobby, desperate need for cheap oil and crackpot dickheads like Dick Cheney or empty-heads like George W.Bush, think tanks have not proven to be a great advantage to American foreign policy-makers. Given that India is a lot more corrupt than the U.S., the presence of think tanks with greater influence with the country's External Affairs ministry could easily turn them into handmaids of vested interests (foreign powers).