Smartphones are entering the irritating terrain of gimmickry with features that most of us don't care about, will not use or that just don't work.
In a desperate attempt at boosting sales, most of the major smartphone vendors including Apple, Samsung and LG are lately guilty of trumpeting features that are completely irrelevant to 95% of the device's users.
Sony is the latest smartphone vendor to jump on the gimmickry bandwagon with a new device Xperia ZR that is supposedly great for underwater HD photography in fresh water.
Oh, yeah, I can see a million smartphone users around the world quitting their day-jobs and jumping into neighborhood swimming pools and lakes to become underwater photographers! 🙁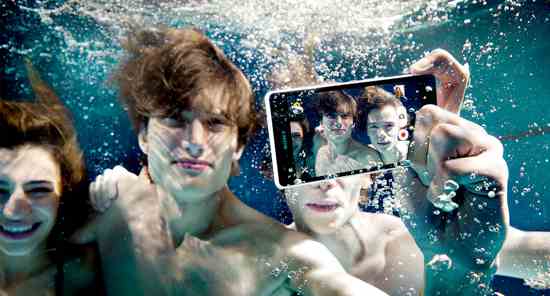 Underwater Photography with Sony Xperia ZR – Really Useful!!!

Sony's Waterproof Xperia ZR
Following in the footsteps of the gimmickry-laden Samsung Galaxy S4  smartphone, Sony today launched a new Android smartphone whose main selling point is its "highest level of water-resistance for capturing photos and Full HD videos underwater."
Now how many of you buy a mobile phone with the intention of capturing photos or taking full HD pictures underwater?
Why would most smartphone users care that the Xperia ZR "waterproof phone is IP55 and IP58 compliant, so you can keep it submerged in 1.5 meters of fresh water for up to 30 minutes."
IP55-compliant IP58-compliant, are there no limits to nonsense.
Ridiculous, the insanity some companies stoop to.
Xperia ZR comes with a 4.6-inch HD display, 13 megapixel camera, quad-core 1.5 GHz processor, 2GB RAM, 8GB storage and 4G LTE support.
For the majority of smartphone users, the only features that matter are  a good display, a fast processor, enough storage (8GB is too little) and LTE support.
Sony is hardly the first smartphone vendor to engage in feature gimmickry for the hype and resulting sales.
Samsung's new Galaxy S4 is equally  culpable.
Galaxy S4 has features like Smart Scroll and Smart Pause that are supposed to work based on tracking eye movement or face movement. Many of these features, as the Wall Street Journal technology columnist Walter Mossberg wrote in his review of Galaxy S4 don't work 90% of the time.
Why the Gimmickry?
Smartphone development has reached a maturity phase where there's little distinction in the key capabilities of the popular devices in the market.
More so, in the case of the leading Android devices where the underlying software platform is the same across many vendors (LG, Samsung, HTC, Sony etc).
The only distinctions of note in the smartphone universe today are between iOS (Apple) and Android, and between cheap smartphones (costing less than $200 without contract) and the costly smartphones (usually costing upward of $600).
Windows and Blackberry are not relevant to the smartphone discussion given their miniscule marketshare and dim prospects.
There really is not much differentiation in the core capabilities of the leading smartphones in the market today. Even the distinction between Apple and Android blurs when it comes to must-have features for consumers.
Whether you pick up Apple iPhone 5, HTC One, LG Optimus Pro G, Galaxy S4 or the Sony Xperia series, you're fine.
So the leading smartphone brands like LG, Samsung, HTC, Sony etc are resorting to gimmickry in hopes of creating confusion and bamboozling American customers to opt for their devices when they visit the carrier's stores to renew their contracts.
Smart shoppers should ignore the noise and pick up any of the above devices after looking at the specs.
If they're already on an iOS platform with iPad, iMac or older iPhone they'd be better off with iPhone 5.
If customers are not hooked to the iOS and desire a better camera, they should pick up any of the above Android devices (HTC One's camera is on the weaker side).
Winners – Apple, Chinese Vendors
I cannot visualize the smartphone industry putting out any leapfrogging technology for the next few years.
This means price and gimmickry will be the only differentiators in this mature industry for the foreseeable future.
The smartphone winners in the coming years are more likely to be Chinese vendors that offer sub-$100 devices without the need for those obscene two-year contracts and Apple with its fanboys. The outlook for high-priced Android vendors is bleak.
I can't wait for the first smartphone, with the key components embedded in the ears and upper lips. 😉
Until then, don't bother me with any of the gimmickry features, be they from Apple or Android!