Any time we open a digital media news blog, we read about the cord-cutters (those who have pulled the plug on cable) in America making life miserable for large cable companies like Comcast, Cablevision, RoadRunner etc.
So where are the hoi polloi going for their entertainment fix every night then? Besides online porn, that is. 😉
The majority of the unwashed masses are heading to either one of the many streaming choices now available to Americans with a broadband connection or to a RedBox kiosk, now ubiquitous outside grocery stores, gas stations and drug stores.
Now not all movie streaming services are the same.
Some streaming choices like M-Go are available (almost) exclusively on tablets and PCs while others like Netflix, Apple iTunes and Hulu Plus are available on multiple platforms including TV, tablets and mobile phones.
There's another big difference between streaming services – some like Netflix are exclusively subscription-based, others like M-Go and Apple are only a la carte and a few like Amazon have embraced both models.
Here are the major streaming service providers in the U.S.:
Apple iTunes

Good collection of Hollywood and foreign movies.
Limited Bollywood collection, mostly old movies like Dilwale Dulhania Le Jayenge, Lamhe, Kaala Pathar, Vijay, Noorie, Daag and a few new films like Ek Tha Tiger and Bodyguard.
If you're looking for Tamil, Telugu or Malayalam films, you're out of luck.
Ridiculously expensive.
The 18-year-old Shahrukh Khan-Kajol film DDLJ is $3.99 for rental; Ek Tha Tiger is $4.99.
iTunes streaming works on PC/Mac, TV (via Apple TV), tablets and iPhone.
Owing to its high cost, we've not streamed a single movie from iTunes although we've purchased tons of Hindi and Tamil songs.
M-Go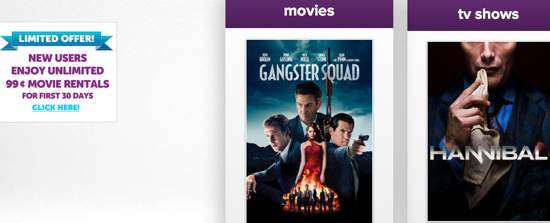 No subscription. Only a la carte.
Good collection of new Hollywood films and TV shows.
Quality not too great! Streaming occasionally stops forcing viewers to backup.
Rental is $3.99 (SD) and $4.99 (for HD).
They have a promotion running now – 99-cents for any movie for 30-days.
Netflix – Streaming King
King of the streaming pack with nearly 20,000 titles including both movies and TV shows.
Huge collection but very few new films. Slim Bollywood collection for streaming. The ones that are available are old ones like Yaarana or junk like Tees Maar Khan.
Subscription-based. Watch all you want for $7.99 a month.
We've streamed several movies and shows on Netflix. They work smoothly without any buffering or other technical issues.
Plays on TV (via set-top boxes like Roku, Xbox etc), PCs, tablets and mobile phones.
Netflix has lately gone into the content business producing original series like House of Cards and Hemlock Grove.
Amazon Prime
Offered by e-commerce behemoth Amazon.com.
Movies and TV shows streaming is available a la carte as Instant Video and on annual fee ($79) basis (Amazon Prime Instant Video).
The Prime Instant Videos streaming option gets you one year of viewing plus two-day shipping on a lot of products purchased from the e-commerce company.
Unless you purchase the a la carte stuff, you won't get to watch new movies.
The Prime Video collection is definitely not the greatest and latest stuff.
Prime Video collection of movies and TV shows number in the thousands.
Instant Video (i.e. the a la carte selection) collection is good but expensive. 🙁
New movies rentals cost $3.99-$4.99.
Movies like Django Unchained, Life of Pi, Silver Linings Playbook and Guilt Trip are $4.99 for a 48-hour rental. Ridiculous pricing. I paid $7 to watch Django Unchained on the big screen at AMC 25 in Times Square and the streaming option five months later costs $5?
Instant Video features a large number of Hindi movies. The crappier ones are usually part of the Prime Instant Video but others are in the a la carte category.
The Bollywood movies are also ridiculously expensive at Amazon Instant Video.
For instance, Three Idiots, Rajneeti, Bhool Bhulaiyaa, Sholay, Delhi Belly cost $3.99 each for rental.
Both Prime Instant Video and the Instant Video services work on TV (via set-tops like Roku), tablet, PCs and mobile phones.
Last year, I rented Headhunters, a Norwegian crime thriller on Amazon Instant Video and except for the cost I was happy with the streaming quality.
YouTube
A cornucopia of content, both Indian and foreign.
Free.
Lots of Hindi and even regional language (Tamil) films.
Mostly decades old films.
Quality not the greatest.
We've experienced buffering problems on several occasions.
Hulu

Free (Hulu) and paid (Hulu Plus) streaming versions available.
Paid version is subscription-based ($7.99 a month) and works on TV (via the Roku box), tablets and PC.
The free Hulu version is available only on PC and does not provide access to classic films.
The paid version offers a remarkable selection of old classics in the "Criterion Collection" from great directors like Akira Kurosawa, Francois Truffaut etc as well as all current season episodes of popular TV shows.
Quality is decent but the irritating part is that even the paid Hulu Plus streaming version has ads.
We watched the Japanese film Yojimbo on Hulu Plus during a free promotion.
Now we're a paid subscriber.
Vudu
One of the few streaming services that we have not tried.
No subscription but a la carte model.
Expensive!
News movies like Django Unchained or Jack Reacher are $4.99 (SD) and $5.99 (HD).
10 free movies (I suspect they may not be the latest and greatest) when you sign up.
Vudu has some old Bollywood films in their collection for $2 rental.
There's also a 99-cent movie of the day. Today it's Tom Hanks starrer The Green Mile.
Streams to TV (via the Roku box) and tablets (both iPad and Android).
Viki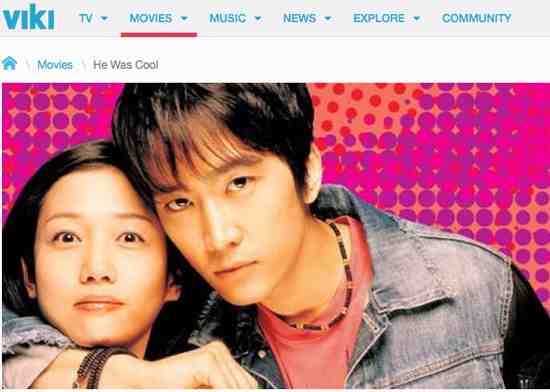 Good collection of Korean and Chinese movies and TV shows.
Free streaming service supported by ads. Decent quality of streaming.
Since we love Korean TV shows and movies, Viki is one of my favorites.
Comes with crowd-sourced subtitles in different languages.
Works mainly on PC and on iPad tablets (via dedicated app).
Spuul
Focuses exclusively on streaming Indian content.
Tons of Bollywood movies available in a hybrid model of free, monthly subscription and a la carte.
We have not tried this service.
RedBox Instant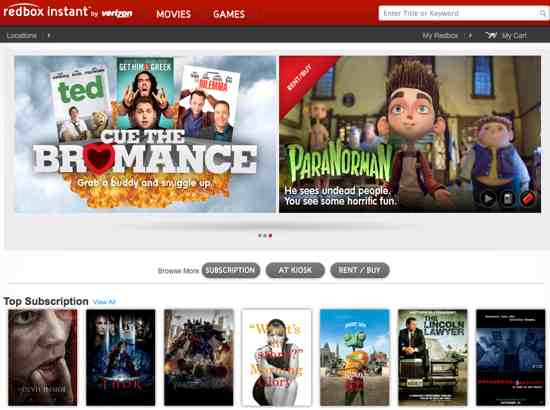 Limited selection, comprising of Hollywood movies.
Subscription-based service ($8 per month) that includes rental of four DVDs at the RedBox kiosk.
We tried it a few months on a free trial and canceled after the trial period.
Don't remember seeing any Indian films on this streaming service.
Not worth wasting time or money on.
Blockbuster On Demand
Oh, how the mighty have fallen.
Blockbuster was once the video tape/DVD rental king. On Fridays, there used to be a long line at the stores.
But Netflix' subscription model and people's changing viewing habits killed Blockbuster. Today, most stores are closed.
No subscription for the Blockbuster On Demand streaming service. Only a la carte.
Most movie rentals are $2.99.
We've yet to try Blockbuster On Demand streaming.
Works on TV, PC/Mac, tablets (both iPad and Android) and mobile phones.
Which One?
Which streaming service to pick depends on your movie preferences and how much you want to pay.
If you like the old classics, Hulu Plus is a good option.
For the latest movies, M-Go or Amazon would be good choices. Viki is for fans of Korean movies and soaps.
Streaming is definitely not the cheapest option for new movies. RedBox is way cheaper at around $1.29. Plus, if you've signed up with RedBox they even send you coupons occasionally.
As long as streaming continues to be over three times the cost of a rental DVD, streaming will not gain momentum for new films.
And we suspect the majority of Americans want to watch new films on their streaming services, not old movies like Ben Hur (1959).