Yes, you can now get the iPhone 5 for just $99.
If you cheapo desis have been sitting on the sidelines, undecided on whether to get an iPhone or upgrade to the iPhone 5, there are a bunch of attractive deals that might spur you to take the plunge.
At least three companies, Walmart, AT&T and Best Buy, are offering attractive discounts on iPhone 5 and the two-year-old iPhone 4S.
It's hard to say whether demand is sluggish for iPhones or the companies are getting rid of their inventory in preparation for a new iPhone model.
Most likely, it's a combination of both.
I suspect demand for the iPhone has gotten a little weak given that rival smartphone Samsung Galaxy 4 has attracted so much positive buzz in recent weeks.
Plus, there's lot of noise about a new iPhone 5S model releasing in the fall. So retailers might be looking to get rid of their excess inventory.

Walmart Deal
Step into any of the Walmart stores and get an iPhone 5 for $129 (previously $189).
If you're willing to settle for the older generation, less-cool iPhone 4S, the price slides down to $39 (previously $89).
You can't get the low prices online but you have to go into the Walmart stores.
Apparently, these are not promotional prices at Walmart but permanent low prices.
Important: Walmart employees are clueless about the price-drop. When I went to the local Walmart a short while ago, the young lady at the counter had no idea about the lower prices and quoted me the old higher price. Only after looking up the prices on her screen, did she realize that iPhone 5 and iPhone 4S prices were now lower.
So if the Walmart employee quotes you a higher price insist politely that she check her screen.
AT&T – 50% Off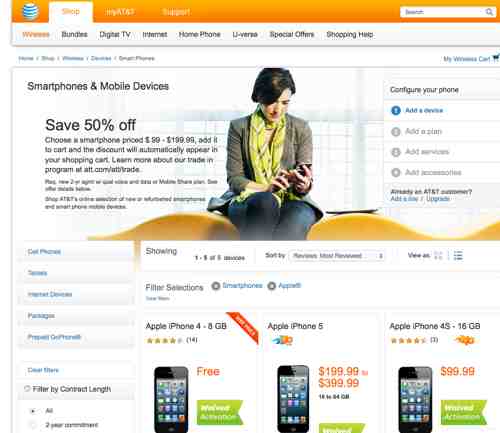 U.S. mobile carrier AT&T has also jumped into the iPhone promotion game with a limited time 50% off deal for smartphones costing up to $199.99.
This means you can get the iPhone 5 (16GB model) for just $99.99.
AT&T's promotion is applicable to other smartphones too like the Samsung Galaxy S4, HTC One or the Blackberry Z10, not just the iPhone 5.
The attractive part of AT&T's promotion is that there's no activation fee (you save about $36).
Go for the AT&T promotion online because the in-store program requires a trade in.
Best Buy Promo
Best Buy's promotion is valid until June 30 and is a trade in program.
You receive a $150 Best Buy gift card when you trade in a working iPhone 4 or iPhone 4S and use it toward the purchase of an iPhone 5 16GB ($149.99 with 2-year agreement).
If you can get the short-on-supply Phone 4S at Best Buy, it's $49.
Of course, you have to sign a two-year-contract with carriers like AT&T, Verizon or Sprint to land these attractive prices.
Impact on Competition
Lower prices at Walmart, AT&T and Best Buy not only puts pressure on other iPhone retailers like Radio Shack, Apple store etc but also on rival brands like Samsung Galaxy, Blackberry and Windows phones.
We called Radio Shack and asked if they would match the lower prices of Walmart and AT&T. The lady who answered gave a qualified response (It seems she has to get a code by calling the company).