India edged past Japan to become the third largest smartphone market (after the U.S. and China) in the first quarter of 2013.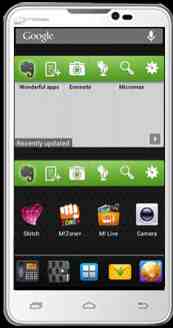 Micromax Smartphone
Rapid Growth
The Indian market for smartphones is said to be growing four times faster than the global average, market researcher Strategy Analytics said in a new report on smartphones.
In Q1 2013, smartphone volumes expanded 163% year over year in India, compared with 39% year over year worldwide.
Rapid growth in India is not surprising because smartphone penetration in the nation of 1.3 billion is still low by Western standards.
The Indian market is rising faster than growing markets like China (86% YoY), Japan (24% YoY) and mature markets like US (19% YoY).
"The smartphone boom is well underway. India is now a country no major smartphone vendor, component maker or apps developer can ignore, " Strategy Analytics analyst Neil Mawston wrote in the report.
Domestic Players
Strategy Analytics said both foreign (Samsung, Micromax and Apple) and Indian mobile phone vendors (Micromax, Karbonn and Spice) were driving higher volumes through improved distribution networks.
But cheaper Android phones from domestic players are witnessing the fastest growth.
Micromax, Karbonn and Spice are reportedly growing between 200% and 500% on an annual basis.
One of the reasons Apple is considering the launch of a cheaper iPhone is to address the huge market in India and China where purchasing capacity is still low for hundreds of millions.