These days there's a lot of buzz in the U.S. around 4K TV sets.
HD TVs, if you believe the buzz, is passe.
So 2012.
Sony, Sharp, and Seiki are some of the vendors that have jumped into the 4K TV fray in recent months.
Just this week, two vendors have launched 4K TVs.
On Monday, Seiki put out a 39-inch 4K TV for $699 to oohs and aahs over the price.
This morning, Sharp launched the 70-inch AQUOS 4K TV for $8,000.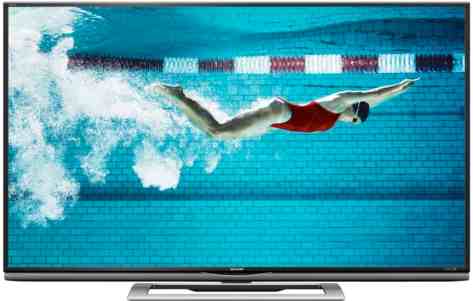 Sharp 70-inch 4K TV – Just $8,000
Difference
So how is a 4K TV different from a regular HDTV?
A 4K TV a.k.a. UltraHD TV has four times the resolution of a high-definition TV.
This means that 4K televisions have over eight million pixels (3840 x 2160).
That's four times higher than the current generation high definition televisions, which come with two million pixels (1920 x 1080).
Worth It?
The big question we have to ask ourselves before plumping for a 4K TV is whether it's worth casting aside our existing HD TVs in favor of a 4K TV.
Those who know more than me on this subject don't think the time is right to buy a 4K TV.
Even those who have been dazzled by 4K picture quality at close range will admit, the advantages of 4K may be entirely superfluous. As resolution increases, the benefits are only noticeable by increasing viewing distance and screen size proportionately. As most viewers have continued to watch television at an average distance of nine feet even after switching from analog television to digital HD, it is presumable that they will not change their viewing habits (i.e. move closer) after going 4K. Thus, unless consumers are planning to purchase a ridiculously large screen of 80″ or more, all the extra pixels will more than likely be completely lost on them.
Further, not enough content is available for 4K TVs.
Bottom line, I'd advise you to stick with your HD TV for a couple of years more.
Based on what I've read, the margins are higher on 4K TVs and that's the reason the vendors are launching an aggressive push for 4K television sets.
Related Content
Why Ultra HD 4K TVs are still stupid