A ruling by federal judge today confirmed what millions of colored people who live in or visit the Big Apple have long suspected – New York City cops are racists who loath Blacks and Hispanics.
In her 195-page ruling, federal Judge Shira A. Scheindlin found that New York City Police Department engaged in unconstitutional behavior including racial profiling in implementing the controversial "Stop and Frisk" program.
Some victims of the Stop and Frisk program filed a complaint against both NYC and the New York City Police Department that it violated the Fourth Amendment and the Equal Protection Clause of the Fourteenth Amendment of the U.S. Constitution.
"Blacks are likely targeted for stops based on a lesser degree of objectively founded suspicion than whites," Judge Scheindlin wrote after a non-jury trial.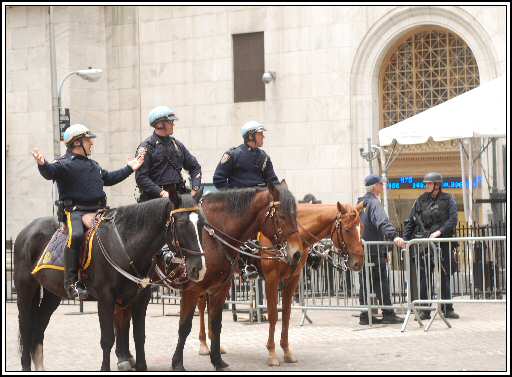 Brilliant Response by Judge
Judge Scheindlin rejected the argument of New York City experts that the race of crime suspects is the appropriate benchmark for measuring racial bias in stops.
The City and its highest officials believe that blacks and Hispanics should be stopped at the same rate as their proportion of the local criminal suspect population. But this reasoning is flawed because the stopped population is overwhelmingly innocent – not criminal. There is no basis for assuming that an innocent population shares the same characteristics as the criminal suspect population in the same area.
Just because Telugu bidda Raghunandan Yandamuri engaged in murder and kidnapping does not make all Telugus in America criminals!
Judge Scheindlin hit the nail on the head in her ruling:
Targeting young black and Hispanic men for stops based on the alleged criminal conduct of other young black or Hispanic men violates bedrock principles of equality.
Judge Scheindlin also came down on the NYPD's unwritten rule of stopping "the right people," police code for young Black and Hispanic men.
Racist Cops – Facts say It All
Sometimes in life the numbers say it all.
The majority of those stopped were Blacks or Hispanics and in the overwhelming majority of cases no weapon or contraband was found.
As a matter of fact, weapons and contraband were seized more often from Whites than Blacks or Hispanics.
Yet Blacks and Hispanics were more likely to be the victims of use of force by the NYC cops and stopped more often by the police.
* Of the 4.4 million stops between January 2004 and June 2012, 83% were either Blacks (51%) or Hispanics (32%) and in 10% the person was white.
• In 2010, New York City's resident population was 23% black, 29% Hispanic, and 33% white.
* 52% of all stops were followed by a protective frisk for weapons. In 98.5% of the 2.3 million frisks, no weapon was found. A weapon was found only in 1.5% of these frisks.
• 8% of all stops led to a search into the stopped person's clothing, ostensibly based on the officer feeling an object during the frisk that he suspected to be a weapon, or immediately perceived to be contraband other than a weapon. In 9% of these searches, the felt object was in fact a weapon. 91% of the time, it was not. In 14% of these searches, the felt object was in fact contraband. 86% of the time it was not.
• 6% of all stops resulted in an arrest, and 6% resulted in a summons. The remaining 88% of the 4.4 million stops resulted in no further law enforcement action.
• In 23% of the stops of blacks, and 24% of the stops of Hispanics, the officer recorded using force. The number for whites was 17%.
• Weapons were seized in 1.0% of the stops of blacks, 1.1% of the stops of Hispanics, and 1.4% of the stops of whites.
• Contraband other than weapons was seized in 1.8% of the stops of blacks, 1.7% of the stops of Hispanics, and 2.3% of the stops of whites.
• Between 2004 and 2009, the percentage of stops where the officer failed to state a specific suspected crime rose from 1% to 36%
"I also conclude that the city's highest officials have turned a blind eye to the evidence that officers are conducting stops in a racially discriminatory manner," Judge Scheindlin wrote.
It's important to note that the judge did not order a halt to stop-and-frisk but asked that it be carried out in a constitutional manner.
Remedies
The judge ordered several remedies including:
* A trial program requiring NYC cops to wear body cameras in one precinct per borough
* A community-based joint remedial process to be conducted by a court-appointed facilitator
* Appointment of an independent monitor Peter L. Zimroth to ensure that the NYPD's conduct of stops and frisks is carried out in accordance with the Constitution and the principles enunciated in this Opinion, and to monitor the NYPD's compliance with the ordered remedies
NYC Response
NYC's three-term White Mayor Michael Bloomberg vowed to appeal Judge Scheindlin's ruling.