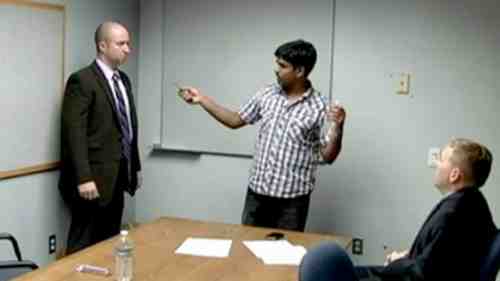 Raghunandan Yandamuri Enacting His Crimes to the Police
Telugu bidda Raghunandan Yandamuri was dealt a severe blow in Montgomery County court today when Judge Steven T. O'Neill disallowed his motion for suppression of his video confession and written statement to the police  relating to the twin murders of 10-month-old Saanvi Venna and her 61-year-old grandmother Satyavathi Venna.
Montgomery County Judge O'Neill ruled today that Yandamuri's video confession and written statements to the police and his cellphone records could be shown to the jury.
Yandamuri was present at the Montgomery County court today.
Following the Judge's ruling, Yandamuri's lawyers said their client was "bitterly disappointed with the decision."
With no plans on entering a guilty plea, Yandamuri continues to insist on his innocence and still wants to go to trial.
You can watch Yandamuri's video confession of October 26, 2012 below:
Note to Readers: The English stuff in the below video does not start until 59 seconds have passed.
Major Setback
Although Yandamuri made a video confession of the killings (which he claims were accidental) in a calm and chilling manner on October 26, 2012 (four days after his two murders) and provided written statements to the police, the Telugu criminal subsequently changed his story and claimed the police coerced him into the confession and writing the statements.
In early January, Yandamuri's lawyers filed a motion asking for the video confession and the written statement to be suppressed.
But the Judge was not swayed by arguments made by Yandamuri's defense team.
Judge O'Neill's ruling today is a serious setback to to Yandamuri's bid to escape the death penalty because the video confession and written statement to the police are highly damning.
No one seeing the video confession will have any doubt about Yandamuri's role in the killings or that he was not coerced by the police.
In the video confession, Yandamuri bizarrely enacts the killings and even acknowledges that the police had treated him well during their interrogation.
Pennsylvania prosecutors are seeking the death penalty for Yandamuri.
Now that his video confession and written statement are being allowed to be shown to the jury in the upcoming trial, it's highly unlikely Yandamuri will escape the death penalty unless Lord Balaji intervenes through a miracle.
Trial Postponed
Meanwhile, Yandamuri's 's trial for the twin murders during a botched kidnapping bid of 10-month-old Saanvi Venna for ransom has been postponed to the second half of 2014, according to media reports. Continue reading »