Ask not for whom the bell tolls: it tolls for thee. – John Donne
Update: Telugu Bidda Raghu Yandamuri Execution Date Set for February 23, 2018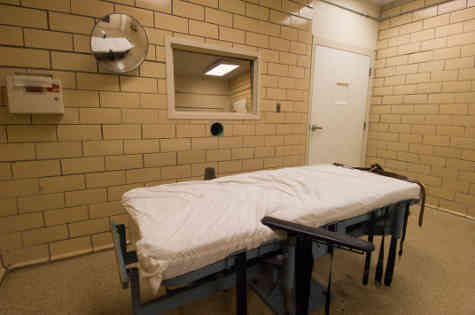 Telugu Bidda Raghunandan Yandamuri's Ultimate Fate
A Pennsylvania Execution Chamber
(Source: PA Department of Prisons)
Never let it be said that Telugus are not pioneers.
Be it in (re)discovering America, releasing Oscar-worthy Tollywood gems, littering Dum Biryani restaurants across the landscape of Amreeka, committing murderous crimes in state after state, writing code in all 50 American states, butchering Queen's English or hurling venom on the mostly good-natured Tamils, U.S. based Telugus have cemented their reputation as one of nature's extraordinary creatures.
Not since the dinosaurs went extinct 65-million years back, has there been a remarkable species like the Telugus.
No exaggeration to say that Lord Balaji broke his mold into a million fragments after creating Telugus.
Today, U.S. Telugus took their bizarre reputation several notches higher when Telugu bidda Raghunandan Yandamuri became the first Indian to be awarded the death penalty in America.
Yandamuri is neither the first nor the last Telugu butcher in America. More Telugus are awaiting trial for murder in other U.S. states!
Yandamuri was awarded the death penalty for murdering baby Saanvi Venna and her grandmother Satyavathi Venna during a botched kidnapping attempt of the infant in King of Prussia (PA) in October 2012.
Yandamuri – Tick-Tock

The clock has started ticking for Telugu bidda Raghunandan Yandamuri, the first Indian to be punished with death penalty in the U.S.
The bloodthirsty prosecutors of Montgomery County (PA) and the shabby verdict of the jury won over prudence and justice today.
The arguments made by Yandamuri's mitigation attorney Henry Hilles to award Yandamuri life in prison without parole instead of the death penalty cut no ice with the merciless jury during the penalty phase of the most infamous trial of an Indian in America.
As mitigating factors, Hilles informed the jury that Yandamuri had bipolar disorder with a history of psychiatric and non-psychiatric episodes of mania and depression, suffered post-traumatic stress after his father's death in a terror attack and had an addiction to gambling.
But the cold-hearted jurors were unmoved and unanimously handed down the death sentence to the Telugu bidda for the murder of baby Saanvi Venna and her grandmother Satyavathi Venna, kidnapping of the baby, robbery and related offenses at their King of Prussia (PA) apartment complex on October 22, 2012 during a botched kidnapping for ransom attempt.
The dozen jurors took less than four hours to award Yandamuri the death penalty.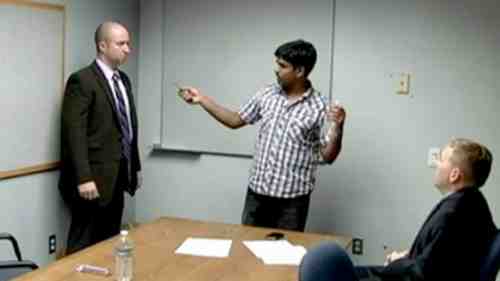 Raghunandan Yandamuri Enacts his Crimes to Pennsylvania Police
Unfair Verdict
As we've said earlier, Yandamuri's murders smack of desperation and amateurism and does not seem pre-meditated.
In our considered view, Yandamuri was guilty of Second Degree murder for which he'd have got life in prison without parole. The two murders that Yandamuri was judged guilty of on October 9, 2014 were committed in the course of robbery and kidnapping and should have been ruled as Second Degree Murder.
The kidnapping of baby Saanvi Venna was impulsively conceived and hastily executed as a quick fix for his gambling-triggered financial woes.
Raghunandan Yandamuri's murders did not deserve the death penalty but he got it just as his victims met an undeserved cruel end because of his ill-considered actions.
Yandamuri – Background
Like so many young Indians who have moved to the U.S. from South India, Raghunandan Yandamuri was a software programmer.
The young lad had a nice job, good salary and a loving wife.
Yandamuri's addiction to gambling proved to be his undoing. After declaring bankruptcy in California, Yandamuri moved to Pennsylvania in May 2012.
Unfortunately for him, the Valley Forge Casino happened to be close by. And Yandamuri quickly resumed his gambling, piling up debt.
It was his addiction to gambling that led the young man to conceive a bizarre scheme to kidnap the daughter of fellow Telugu programmers at the Marquis apartment complex in King of Prussia, PA.
The kidnapping attempt went horribly awry and both baby Saanvi Venna and her 61-year-old grandmother Satyavathi Venna died sealing Yandamuri's fate. He was arrested on October 26, 2012 and has been lodged in the Montgomery County Jail since.
Now that he's been convicted, Yandamuri will soon be shifted to the death row of a Pennsylvania prison.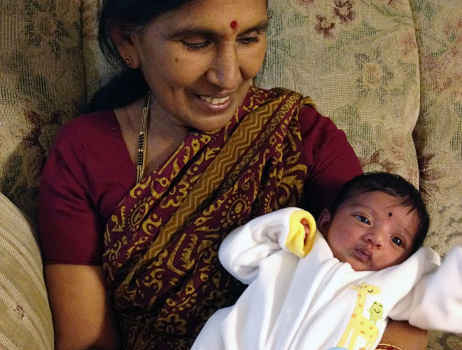 Victims – Baby Saanvi Venna with Grandmother Satyavathi Venna
Yandamuri – What Next?
Unless Raghunandan Yandamuri takes his own life (of which there's a strong possibility), he will linger for several years.
If he chooses to, there's a long appeals process available to him.
Prisoners condemned to death often stay 10 to 20 years on death row before they're executed because of the lengthy process involved in an execution.
Further, there are already 184 inmates on Pennsylvania's death row who must first be executed before Yandamuri can get his turn.
Pennsylvania prison authorities also face serious constraints in obtaining the drugs required for lethal injection.This problem will only intensify in the years to come.
The state has not executed anyone since murderer, kidnapper and rapist Gary Heidnik was put to death by lethal injection on July 6, 1999.
So it'll be a long time, if ever, before Raghunandan Yandamuri feels the sting of the lethal injection in his arm.
Extra – Video Confession
Here's one of the weirdest videos we've seen in our life.
Beats any Tollywood crime drama.
The English portion of the below video starts after 58-seconds. So be patient!