Latest Update: I am NOT GUILTY, Says Raghunandan Yandamuri
Telugu bidda Raghunandan Yandamuri received a terrible Sankranti gift today with Montgomery County prosecutors in Pennsylvania announcing they'd seek the death penalty for him in the Vennas murder case.
Montgomery County prosecutors today filed notice in the court of Judge Steven T.O'Neill seeking the death penalty for Raghunanda Yandamuri for the twin murders of 10-month-old Saanvi Venna and her 61-year-old grandmother Satyavathi Venna.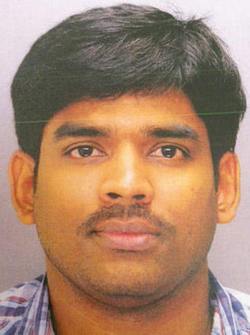 Raghunandan Yandamuri
First Indian
Raghunandan Yandamuri is the first Indian ever in America where prosecutors are seeking the death penalty in a criminal case.
Tens of thousands of Gujaratis, Punjabis, Tamils, North Indians, Telugus, Bengalis and Mallus have migrated from India to the U.S. over several decades.
Many Indians have been convicted of crimes in the U.S. and several have gone to prison.
But only in the case of Telugu bidda Raghunandan Yandamuri have prosecutors sought the death penalty.
First Assistant District Attorney Kevin R. Steele of Montgomery County said today:
We only seek the death penalty in limited cases, reserving it for the worst of the worst….In this case, we carefully evaluated the evidence before deciding to file the notice of our intention to seek the death penalty. In the two murders of Saanvi and Satyavathi, there is evidence of a number of aggravating factors including murder, while the victim was being held for ransom, killing in perpetration of a felony, multiple murders, murder of a child under (age) 12 and murder of a witness.
Death Not Certain
A mere fact of the prosecutors seeking the death penalty does not mean Raghunandan Yandamuri will be awarded the death penalty.
Ultimately, the decision depends on the outcome of the trial.
The prosecution's decision today is not a big surprise since Henry S.Hiles III, a death penalty Mitigation Counsel, has already been appointed for Raghu Yandamuri.
Given the gruesome nature of the murders, Raghunandan Yandamuri will die in prison even if he's not awarded the death penalty.
A trial date has yet to be set for the case.
Charges Against Telugu Bidda
Raghunandan Yandamuri faces grave charges.
Unless there's a miracle, it's impossible that Raghu Yandamuri will escape the lethal injection.
To make matters worse, Raghunandan Yandamuri has already confessed in graphic, lurid detail on video to the kidnapping of Saanvi Venna and killings of the two Vennas.
Raghu Yandamuri claims the killings were accidental but that's a defense likely to find little favor with any jury.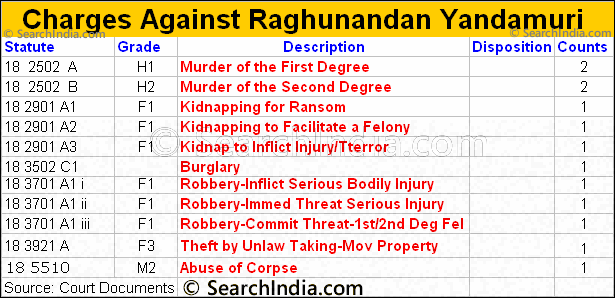 Raghu Yandamuri – Background
Raghunandan Yandamuri, 26, is a software programmer from Andhra Pradesh, a glorious land in South India with an insatiable appetite for Dum Biryani, an enduring passion for Allu Arjun films and a relentless desperation to migrate to America.
With a penchant for gambling, Raghunandan Yandamuri repeatedly wracked up huge debts.
After discharging his debts in a California bankruptcy court, Raghunandan Yandamuri moved to King of Prussia, PA in May/June of 2012.
But marriage to his sweetheart Komali Alokam and a new job did not prevent Raghu Yandamuri from lapsing again into his gambling habits.
Raghunandan Yandamuri's  return to gambling in Pennsylvania only compounded his financial woes.
To rid himself of his financial problems, Raghunandan Yandamuri hatched a horrid plan to kidnap his Telugu neighbor Siva Venna's 10-month-old daughter Saanvi Venna for ransom.
But the kidnapping went awry and resulted in the deaths of two innocent souls – Saanvi Venna and her grandmother Satyavathi Venna, who died trying to save baby Saanvi.
Raghunandan Yandamuri has been sweating it out in in Bridgeport Jail since his arrest on October 26, 2012.
Related Stories:
Raghunandan Yandamuri's Video Confession
Telugu Bidda Raghu Yandamuri's Gamble Failed Big Time
Essential Facts about Raghunandan Yandamuri
Understanding Raghu Yandamuri's Case
Vennas Murder Case goes to Trial
Police Complaint Against Raghunandan Yandamuri