Happy Birthday, Raghunandan Yandamuri!
Notorious Telugu bidda Raghunandan Yandamuri's 27th birthday passed off (hopefully) quietly today in a cell at the Montgomery County jail in Pennsylvania.
Until today, every February 21 must surely have been a joyous occasion for the ambitious software programmer, who hails from the glorious state of Andhra Pradesh.
A day of celebration and cheer with Dum Biryani, sweet Rice Payasam, spicy Gutti Vankaya and other delicacies crowding the dining table and ending with an Allu Arjun movie on the DVD player.
From fairly humble origins, the young man had completed his engineering degree and 'made' it to America where he worked as a software programmer.
But his 27th birthday must have been a deeply depressing occasion for the young man, a day filled with reflection and introspection.
After all, so much has changed for Raghunandan Yandamuri in the last four months since he went to his office in King of Prussia on the morning of Monday, October  22, 2012 and typed up the below ransom note to extricate himself from his gambling debts.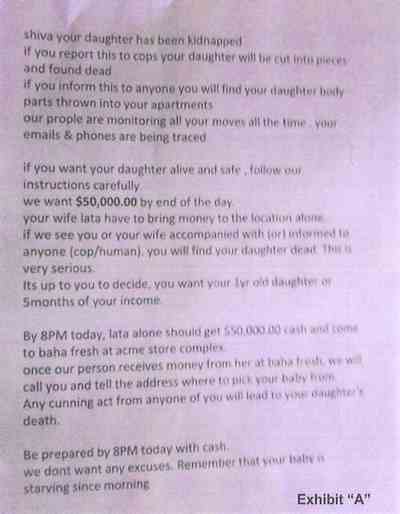 No more Happy Birthdays
That fateful day, October 22, 2012, changed everything for Raghunandan Yandamuri.
On that Monday, the Telugu Bidda's callous, cold-blooded greed led to the deaths of 10-month-old Saanvi Venna and the baby's 61-year-old grandmother Satyavathi Venna in their Upper Merion Township, PA apartment.
Those twin horrific deeds sealed Raghunandan Yandamuri's fate.
No more Happy Birthdays ever after for the Telugu bidda.
No More Dum Biryani, No more Rice Payasam and No More Smiles for Raghunandan Yandamuri for the rest of his life.
Now Raghunanda Yandamuri spends his time in jail wondering whether his ultimate fate is execution by lethal injection, a highly likely event.
Raghunanda's wife was pregnant at the time of  his gruesome attack on the Vennas.
And Raghu Yandamuri would definitely be glad to know that in an online poll the majority of voters wanted his child to be given a fair chance.
Life in Montgomery County Jail
Like in most jails and prisons in the U.S., the Montgomery County jail too is crowded.
The diet is spartan, assaults on prisoners not uncommon and medical facilities below par.
Raghunandan Yandamuri's plight must be even more precarious than that of other inmates since child-killers are held in great contempt by other prisoners and often viciously assaulted.
It'd be a mighty big surprise if Yandamuri has not suffered multiple assaults already in the Montgomery County jail.
The Montgomery County Common Pleas Court has fixed March 15, 2013 as the date for Telugu bidda Raghunandan Yandamuri's formal arraignment at 9AM in Courtroom 5.
Related Stories:
Raghunandan Yandamuri's Video Confession
Telugu Bidda Raghu Yandamuri's Gamble Failed Big Time
Essential Facts about Raghunandan Yandamuri
Understanding Raghu Yandamuri's Case
Police Complaint Against Raghunandan Yandamuri