Telugu bidda Raghunandan Yandamuri did not plead guilty to the Venna murders in a Montgomery County, PA court room today.
Nor did Magisterial District Judge James P.Gallagher, before whom Raghu appeared, discharge the case.
After seeing the video statement of Raghunandan Yandamuri to the Montgomery County police in which he acknowledged kidnapping 10-month-old Saanvi Venna and killing both Saanvi Venna and her 61-year-old grandmother Satyavathi Venna and unswayed by arguments made by Raghu's Public Defender attorney Stephen Heckman, Judge Gallagher ordered Raghu to stand trial on first-degree murder, kidnapping and other charges.
Public Defender Stephen Heckman's argument in the court that his client Raghunandan Yandamuri had no intent to kill cut no ice with Judge Gallagher.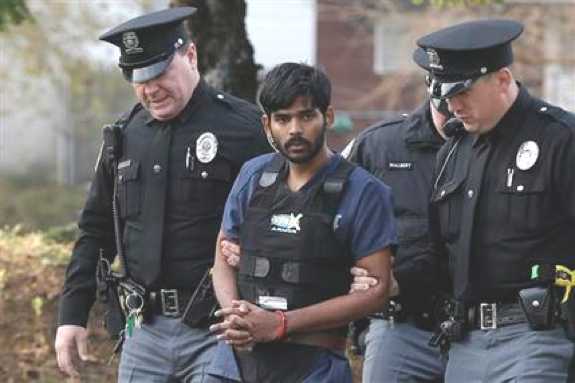 Raghunandan Yandamuri Being Escorted to Preliminary Hearing in Bridgeport, PA
Picture courtesy: AP
Montgomery County prosecutors will likely seek the death penalty in a case that Assistant District Attorney Kevin Steele described as "one of those cases that haunts you."
In the video statement, media reports cite Raghunandan Yandamuri telling the police,
I really feel sorry for what happened. I had a good job, a good life. I know this is not a small mistake. I don't have words to express my problem.
In the video, Raghunandan Yandamuri also acknowledged his gambling problem.
SearchIndia.com blog was the first to highlight Raghunandan Yandamuri's gambling problems.
Charges Against Raghunandan Yandamuri
Raghunandan Yandamuri, 26, faces a long litany of charges.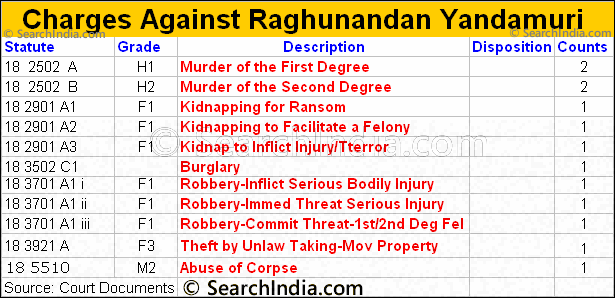 Given the seriousness of charges and the damning video statements/confessions, it's hard to see how Raghunandan Yandamuri can get off unless there's an extraordinary miracle.
What Happens Next?
A murder trial is usually a long drawn out affair involving multiple steps including jury selection, pre-trial conference, trial list etc.
The below chart indicates how Raghunandan Yandamuri's trial will now proceed.
Only the first three steps (Police Arrest, Preliminary Arraignment and Preliminary Hearing) have been completed so far.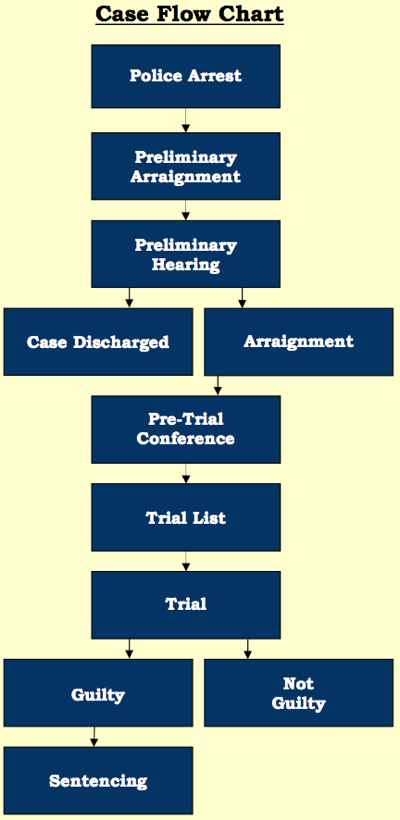 If found guilty after the trial, Raghunandan Yandamuri could face the death penalty or spend life in prison without parole.
Strong Security for Raghu
Raghunandan Yandamuri was brought to the court house in tight security.
Raghu was made to wear a bullet-proof vest and guarded by Montgomery County police officers on all sides.
He was handcuffed and also compelled to wear leg shackles.
The Venna murders have drawn deep revulsion both in the Indian-American community and mainstream Americans as well. So the police had legitimate reason to fear an attack on Raghu.
Komali Alokam Back in India
Raghunandan Yandamuri's wife Komali Alokam, a housewife, is pregnant and has recently returned to India.
This surprising bit of news was disclosed by Raghu's lawyer Stephen Heckman.
Related Posts:
Police Complaint Against Raghunandan Yandamuri
Essential Facts about Raghunandan Yandamuri
Telugu Gambler Raghunandan Yandamuri's Crime Gamble Failed Big Time