The murder-kidnapping drama involving Telugu bidda Raghunandan Yandamuri is wearily trudging into the trial phase.
Raghunandan Yandamuri has been charged with the murders of baby Saanvi Venna and her 61-year-old grandmother Satyavathi Venna during a botched kidnapping for ransom incident on October 22, 2012 in King of Prussia, Pennsylvania.
Montgomery County (PA) prosecutors are seeking the death penalty for Yandamuri.
Jury selection commenced yesterday and it appears five jurors have been selected as of 15:00 hours September 17, 2014.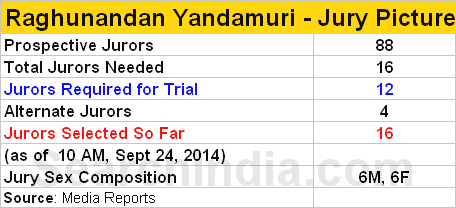 Trial Start
Already marked by repeated postponements, it seems unlikely that the Telugu bidda's trial will start before next week.
But Judge Steven T. O'Neill could throw the spanner in the works by ruling in favor of Yandamuri's motion seeking an alternative venue or getting jurors from another county given the prejudicial publicity the Venna murders have received in Montgomery County.
Raghunanda Yandamuri's trial is the most high-profile criminal case involving an Indian in the U.S.