Update: Telugu Bidda Raghu Yandamuri Execution Date Set for February 23, 2018
Indians are increasingly hogging the limelight in America.
And for all the wrong reasons.
I'm speaking of the increasing propensity of desis in the U.S. to commit all kinds of crimes – Violent, Non-Violent, Horrendous, Garden Variety, White-Collar, Sexual, Vehicular, Drug Peddling, Drug Possession, Immigration Fraud and more.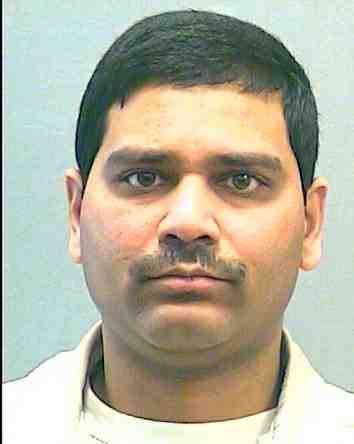 Sai Ramesh Maddi
Biting, Kicking, Attempted Murder
No crime is above or below Indians in the U.S. these days!
Sociologically speaking, I suppose one way of looking at desi crimes is that the Indian community has arrived.
In other words, Indians are now part of mainstream America! 😉
Now don't ask me why Telugus and Mallus are higher up on the criminal ladder compared to, say, the bovine Tamils. Perhaps future researchers will prove a link between crime and diet.
I suspect Dum Biryani and Plantain chips are not conducive to non-criminal activity.
Say what you will but Tamils seem quiet on the crime front in North America. After the death of their favorite terrorist Vellupillai 'whacko' Prabhakaran, Tamils have had all their violent stuffing knocked out of them!
It'd take me a millennium to compile a complete catalog of Indian criminals in the U.S.
But here's a short list of some of the most notorious Indian criminals in Amazing Amreeka:
Infamous Telugu Criminals
* Timma R. Kalidindi – Telugu bidda and software programmer Timma Kalidindi, 48, committed murder the old-fashioned way – With a rope. Kalidindi choked his wife Janaki Dantuluru by strangling her with a braided rope in their Francis Drive, Bridgewater (NJ) home on November 16, 2013. Kalidindi, who now faces charges of First Degree Murder, continues to remain a guest of the Somerset County Jail since he lacks the money to post $1.5 million cash bail. Last month, a Somerset County Grand Jury indicted Kalidindi with First Degree Murder and Third Degree Possession of a Weapon for an Unlawful Purpose for killing his wife by strangulation. It's unlikely Timma Kalidindi will ever get to eat Dum Biryani in his life again. Since New Jersey has no death penalty, NJ tax payers are on the hook for boarding, lodging and healthcare expenses of Timma Kalidindi for the rest of his life.
* Sai Ramesh Maddi (DOB: 6/3/1975) – Total whacko! Kicking, beating, biting, stomping and burning of his wife Sireesha Pesala with a heated metal spoon are Telugu bidda Maddi's specialties. This weirdo's appeal was denied last year. Currently incarcerated at the South Woods State Prison in Morris County (New Jersey) on attempted murder charges, Sai Ramesh Maddi, a software programmer, is due out on June 24, 2014. 🙁
* Raghunandan Yandamuri (DOB: 2/21/1986) – Serial gambler attacked and killed 10-month-old Saanvi Venna and her 61-year-old grandmother Satyavathi Venna in their King of Prussia apartment in Pennsylvania on October 22, 2012. After killing the two Vennas and giving new meaning to the word chutzpah, this cold-blooded monster participated in the search and candle vigils for the victims! The idiot confessed on video to the killings (which he claimed were accidental) but is now singing a different tune and accuses others of being the real villains. Yandamuri, a software programmer, is currently an involuntary guest of the Montgomery County Jail in Pennsylvania. Facing the death penalty, Yandamuri's trial is scheduled to start May 5, 2014.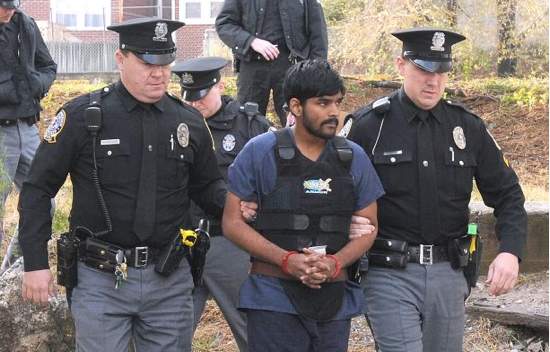 Raghunandan Yandamuri
Kidnapper and Murderer
* Srinivasa Erramilli – The Aurora (IL) resident and software programmer is a Serial Groper on U.S. commercial flights. Erramilli managed to avoid prison time and received probation for his earlier two "breast" gropings, but his luck ran out after the third incident when he went for the "thighs." His thighness Erramilli is currently imprisoned at the federal prison in Lisbon, Ohio. Erramilli's date of release is July 26, 2014.
* Lakireddy Bali Reddy (DOB: 5/20/1937) – California Sex Slaver got into serious trouble when one of the girls he imported from India died under mysterious circumstances. Lakireddy pleaded guilty on March 7, 2001 to trafficking in women and girls into the U.S. to place them in sexual servitude. After a short 8-year prison term, Lakireddy had to register as a sex offender.
* Lakshminivasarao Nerusu – This monster from Novi (MI) butchered his wife and two young children but was so greedy for his own life that he spared himself. This moron thought he could escape punishment by running off to Hyderabad. But the FBI tracked Nerusu in Andhra Pradesh and hauled his brown ass back to the U.S. to stand trial. Nerusu, a software programmer, is currently in a Michigan jail awaiting trial on three counts of Homicide – First Degree Murder Pre-meditated.
* Amit Muddamalle – After a seven-year manhunt, Telugu bidda Amit Muddamalle Livingston was captured in Hyderabad, Andhra Pradesh and extradited to the U.S. for murdering his lover. Amit Muddamalle was convicted in a Texas court in 2007 for the murder and sentenced to 23 years in prison but he fled to India before his prison sentence could start.
* Sujatha Guduru – A nut from Oveido, Florida who killed her 17-year-old daughter in bed but was too dumb to shoot herself properly. If you're plotting a murder/suicide combo, the least you can do is learn to shoot properly so that you don't have to face the grim consequences of your grisly crimes and spare tax-payers the cost of the trial. Sujatha is currently in Seminole County Jail (FL). If convicted, Sujatha will disappear from public view for ever.
* Vikram Buddhi – After threatening the U.S. President, Vice President, Defense Secretary and their families with a horrible fate, this whacko quickly found himself in jail with a 57-month sentence. Buddhi should be out of prison by now and is likely in the custody of Immigration authorities.
* Murali Krishna Nookella – This stupid fellow's over-active libido got the better of him and he exposed his dick on a flight from Philadelphia to Denver. The SAP programmer confessed to "Obscene and Indecent Exposure on an Aircraft" but managed to avoid jail time. The judge ordered Murali Nookella to complete a program of mental health treatment and not travel on Southwest Airlines. Now you know why we refer to Nookella as a dickhead. By the way, his wife has been repeatedly e-mailing us of late asking us to remove our old posts on Nookella.
Notorious Mallu Criminals
Contrary to what some of you bigots may think, Telugus do not have a monopoly on high-profile crimes in America.
Mallus may be far behind in the criminal rat race but show solid potential.
* Anand Jon Alexander (DOB: Nov 28, 1973) – Mallu fashion designer Anand Jon was a high-profile fella in Los Angeles until his luck ran out. Anand Jon was convicted in 2009 of assaulting several girls and sentenced to 59 years in prison. Unless Jesus performs a miracle, Anand Jon will leave prison only in a wooden box. Anand Jon is currently serving time at the the California Correctional Institution in Tehachapi, 100-miles north of Los Angeles.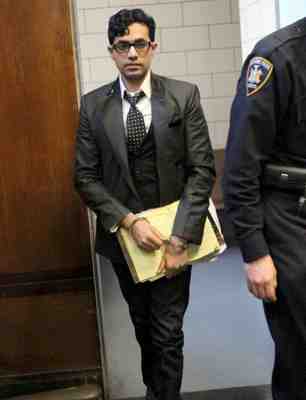 Anand Jon Alexander
59 Years in Prison
* Mathew Martoma – Serial bad boy was convicted of insider trading on February 6, 2014. After his expulsion from Harvard Law School for faking/inflating his grades, this jackass changed his name from Ajai Mathew Mariamdani Thomas to Mathew Martoma. Unless Martoma succeeds in his appeal, he's destined for 10-years in prison. That should keep him out of trouble for a while.
* Devarajan Kalathat – The Santa Clara (CA) resident went bonkers one evening in March 2009 and wiped out five members of his family with a newly acquired .45 caliber gun. Devarajan also shot and severely injured his wife Abha Appu, who survived. But in Devarajan's favor he was smart enough to kill himself at the end of his violent spree.
North Indian Criminals
And if you think North Indians or the highly educated desis are free of the criminal taint, you'd be so mistaken.
Here, take a deko at what some of our North Indian desis have been up to:
* Rajat Gupta – Obscene greed got the better of this multimillionaire, multiple home owner with IIT and Harvard Degrees. The crook passed on confidential information to his hedge fund pal Raj Rajaratnam unaware that the feds had tapped Rajaratnam's phone. Rajat Gupta was convicted but is still out on appeal.
* Varsha Sabhnani & Husband Mahender Sabhnani – These Muttontown (a small town in Long Island, NY) perfume peddlers were convicted of abusing their Indonesian maids. Varsha got 11-years in prison while Mahender received a 3 1/3 sentence. Varsha was convicted of – hold your breath now – forced labor, peonage, harboring aliens, document servitude, and related conspiracy charges.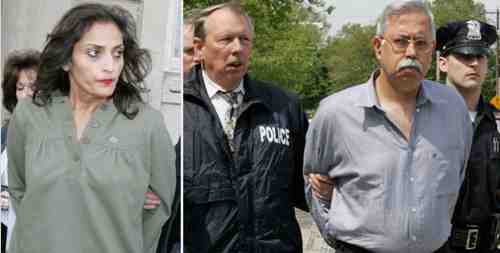 Varsha and Husband Mahender Sabhnani
Mighty Cruel Indians
* Deepak Jahagirdar – Another Indian in-flight idiot. During a Delta Airlines flight from Dallas to Boston on March 31, 2002, Arizona resident and Harvard MBA Deepak Jahagirdar, 52, couldn't resist shoving his finger into his 22-year-old co-passenger's twat. For trespassing into prohibited territory, Deepak got 87-months in an Arizona prison plus $25,000 fine plus 24-months of supervised release!
Tamil Nut-Job
* Karthik Rajaram – Now I believe an IIT criminal is smarter than other Indian criminals. Because after killing his wife Subashri (39), three children (7, 12 and 19) and mother-in-law Indra Ramaseshan (69), Karthik Rajaram, 45, of Porter Ranch (near Los Angeles) turned the gun on himself. If Karthik Rajaram had not killed himself, he surely would have gone to California's Death Row! Rajaram was broke, unemployed and hopelessly whacko when he committed the quintuple murders on October 6, 2008.
Kannadiga Loony
* Pawan Kumar Anjaiah – This loony software programmer got infatuated with a White girl Danielle Mehlman (26), took her to a motel in Dewey Beach (DE) and knifed her to death on June 18, 2012. Pawan (26) was smart enough to kill himself the next day at a motel in Belleville (NJ) leaving behind a suicide note in which he supposedly confessed to the murder.  If Pawan had not killed himself, he'd have spent the rest of his life in prison. And all you dolts still think that Kannadigas are bovine creatures who are forever in a stupor after overdosing on Bisi Bele Bath. Shows how little you schmucks know!
Indians – Low-Hanging Fruit
The spate of Indian convictions leads me to suspect that Indian criminals are the low-hanging fruit for ambitious, overzealous American prosecutors.
I'm not saying Indians are angels.
Lord knows the majority of Indians are devils.
Or as I like to say Indians are wolves in wolves clothing.
But Indians are probably getting convicted in prominent as well as not-so-prominent cases for three reasons:
1) These brown asses are not getting good attorneys.
2) Color of their skin.
3) And above all for straying from the straight and narrow.