Another day in Amreeka, another Telugu murderer pleading Not Guilty! 🙁
Telugu bidda Timma Raju Kalidindi is playing hardball with prosecutors in Somerset County, New Jersey over the murder of his estranged wife Janaki Dantaluru.
The 48-year-old software programmer who murdered his wife the old-fashioned way – by choking her and using a braided rope – today pleaded Not Guilty in a New Jersey court.
The Telugu whacko Timma Kalidindi was offered a plea deal for 30-years in prison for his crime of First Degree Murder.
It's not clear why Kalidindi did not take the deal.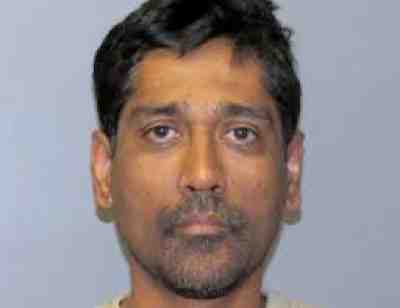 Telugu Whacko Timma Raju Kalidindi – Pleads Not Guilty
Timma Kalidindi strangled his estranged wife Janaki Dantuluru at their Bridgewater home in New Jersey on November 14, 2013.
According to Timma Kalidindi's arrest affidavit, on the evening of the murder he told his teenage daughter that "only one person was going to survive tonight."
Police arrived at the Bridgewater residence after Timma Kalidindi's daughter called 911 after hearing screams from the garage.
Timma Kalidindi's wife Janaki died two days later at the Somerset Medical Center.
According to the arrest affidavit, Kalidindi said he squeezed his wife's neck to stop her screaming.
Who is Timma Kalidindi?
* Timma Raju Kalidindi must be an old-fashioned murderer, having killed his wife not with a knife or gun but with a rope and his bare hands
* Timma Raju Kalidindi and Bollywood superstar Shahrukh Khan were both born in 1965 but Shahrkh Khan uses his hands only for eating
* Timma Raju Kalidindi shares a great sense of humor with other recent Telugu murderers in the U.S. – All of them have pleaded Not Guilty despite overwhelming evidence of their crimes
* Timma Raju Kalidindi is a Telugu native, hailing from the South Indian state of Andhra Pradesh (famous for export of red chillies, tobacco and software programmers)
* Timma Raju Kalidindi likely hails from Kakinada, a city in coastal Andhra Pradesh with a sex ratio of 1,046 to 1,000
* Timma Raju Kalidindi's last name suggests the Telugu bidda belongs to the Kshatriya warrior caste
* Timma Raju Kalidindi was a resident of Bridgewater, New Jersey until he was involuntarily shifted to the Somerset County jail in November 2013
* Timma Raju Kalidindi is said to have been having marital trouble for four months before he choked his wife Janaki Dantaluru (I've been enduring marital problems for nearly 20 years and still use my hands only for blogging)
* Timma Raju Kalidindi was indicted by a Somerset County Grand Jury last year with First Degree Murder and Third Degree Possession of a Weapon for an Unlawful Purpose (for killing his wife by strangulation) charges
* Timma Raju Kalidindi's cash bail has been set at $1.5 million, a tiny fraction of YSR Congress chief Jaganmohan Reddy's illegal assets
* Timma Raju Kalidindi has been unable to raise the bail amount and hence continues to wear khaki clothes (i.e. remains in jail)
* Timma Raju Kalidindi has jeero (Telugu version of zero) chance of escaping prison time
* Timma Raju Kalidindi will mostly likely leave prison only in a cheap wooden box and be buried in an unmarked grave
* Timma Raju Kalidindi is an alumnus of BITS Pilani with a Master of Engineering (MEng) in Systems and information, 1992
* Timma Raju Kalidindi set up a company in New Jersey called Integrated Information Systems Inc. but it's probably disintegrated by now
* Timma Raju Kalidindi lists his favorite books as The Hobbit by J.R.R.Tolkien and the Bible
* Timma Raju Kalidindi obviously failed to completely read the Bible because there's nothing about strangling one's spouse in either the Old Testament or New Testament
* Timma Raju Kalidindi's software skills include data merger, data conversion and Interfaces (Legacy systems to Client server systems), skills not prized in prison
* Timma Raju Kalidindi is a fan of Barack Obama, writing in an online forum – President done some wonderful jobs Healthcare; End the war in Iraq war; Regulations; Foundation for jumpstart Economy; Equal rights; Restore world peace and order to name a few. What is in store next well Economy trend's up, End to war in Afghanistan; Debt Reduction, strengthen world peace and order again name a few "Moving forward".
* Timma Raju Kalidindi likes Michelle Obama too but don't ask why
* Timma Raju Kalidindi, like most Telugu biddas in America, is a fan of broken English (see above his praise of President Obama)
* Timma Raju Kalidindi's IT experience includes Online Transaction Process Environment, Data Warehousing and Performance Tuning, all useless in prison where only his 'choking' experience will stand him in good stead if he's attacked
* Timma Raju Kalidindi claims to be technically strong in Oracle database, UNIX, ETL tools and, Erwin data modeler but there's no known connection between Unix proficiency and strangulation (not sure about Solaris though)
* Timma Raju Kalidindi will cost New Jersey tax payers a hefty sum for boarding, lodging and healthcare expenses over the next three or four decades since the state was stupid enough to abolish the death penalty
* Timma Raju Kalidindi will never get to eat Telugu favorite dishes like Dum Biryani and Pootharekulu in his life again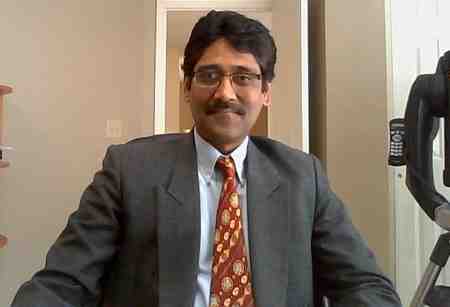 Timma Raju Kalidindi – During Better Times
Other Telugu Butchers
Timma Kalidindi is hardly the first Telugu whacko to create mayhem in the U.S.
Raghunandan Yandamuri is facing trial in Pennsylvania for the twin murders of baby Sanvi Venna and her 61-year-old grandmother Satyavathi Venna.
In Novi, Michigan, the trial of Telugu bidda Lakshminivasa Rao Nerusu for the murder of his wife and two children starts on May 5, 2014.
On January 27, 2014, Sujatha Guduru shot her 17-year-old daughter at their Oveido, Florida home. Sujatha is currently in Seminole County Jail. If convicted, Sujatha will draw a lengthy sentence and disappear from public view for ever.