Update: Telugu Bidda Raghu Yandamuri Execution Date Set for February 23, 2018
For the next 100 years, doting grandmothers in remote villages of Andhra Pradesh and Telengana will be warning their grandchildren that if they don't finish their dinner quickly the Rakshasa Raghunandan Yandamuri will show up.
Such is the bizarre fame of King of Prussia, PA resident Raghunandan Yandamuri, now thrown into the limelight for the murder of two fellow Telugus.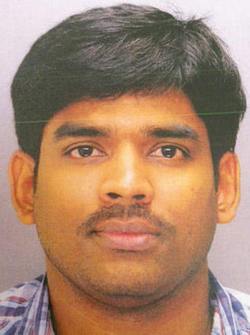 Raghunandan Yandamuri
Here are the essential facts about Raghunandan Yandamuri.
1. Raghunandan Yandamuri is a Telugu, an ethnic group residing mostly in the South Indian state of Andhra Pradesh. The distinguishing characteristics of Telugus include an insatiable appetite for Dum Biryani, Avakaya pickle, Gutti Vankaya and Gongura Chicken, a desperate itch to migrate to the U.S. and an inexplicable fondness for Allu Arjun films.
2. Raghunandan Yandamuri is 26-years-old. Yandamuri was born in the coastal Andhra city of Vizag on February 21, 1986. For Telugus, 1986 marks a landmark as that was the year the on-screen torture of 'non-actor' Akkineni Nagarjuna in a lead role started.
3. Raghunandan Yandamuri lived in the Marquis Apartments complex in King of Prussia, PA.
Yandamuri's Address: xxx W.Dekalb PK,  King of Prussia, PA 19406 is not a tourist spot for Telugus like the Balaji Temple in Pittsburgh or the Venkateswara Temple in Bridgewater, NJ.
4. Raghunandan Yandamuri is married and his wife is pregnant. For Telugus, 'Birthed in America' is higher than 'Made in India' and like a lot of Telugus Yandamuri was planning to get his mother-in-law and father-in-law to the U.S. to assist them, post-delivery.
5. Raghunandan Yandamuri is a software programmer, a bug affecting many Telugus. Yandamuri previously worked for Sarayu Consultants of Carpentersville, IL.
6. Raghunandan Yandamuri weighs 160lbs and is 5-ft 9-inches, taller than the average Telugu.
7. Raghunandan Yandamuri previously lived in California and moved to King of Prussia, PA around July this year, indicating a nomadic lifestyle afflicting a lot of Telugu software professionals.
8. Raghunandan Yandamuri drove a 1999 Red Honda Acura Integra car with plate JBKxxxx. The car is not a collector's item, so please do not start looking for it on eBay, Craigslist or any of the Telugu forums.
9. Raghunandan Yandamuri possessed an Illinois Driver's License that he will not be needing in future. Telugu numerologists may note that Raghunandan's Driver's License No Yxxx72086xxx, translates inauspiciously to Y44 when you add up the numbers in the license.
10. Raghunandan Yandamuri has excellent comedy skills, suggesting he must have watched at least a few dozen films starring Telugu comedian Brahmanandam. Proof of Raghunandan Yandamuri's comic strengths – He participated in the search for the missing child Saanvi Venna, posted and distributed "Missing Child" fliers and attended a vigil without arousing the suspicion of other Telugus.
11. Raghunandan Yandamuri was desperate for money, an incurable, occasionally fatal, disease affecting not just Telugus but the entire Homo Sapiens race.
Yandamuri's financial troubles led him to file for Chapter 7 Bankruptcy on April 10, 2012 in California.
12. Raghunandan Yandamuri's Social Security Number is 348-xx-40xx totaling up to 31, which totals to 4, a number that Telugu numerologists will unhesitatingly disapprove of since 4 also appears twice in his Driver's License Numero-total. Please refer to point 9, above.
13. Raghunandan has been charged with more crimes than any other Telugu, living or dead.
14. Raghunandan Yandamuri is charged with the following crimes:
* PACC 2052(a) Murder of the First Degree
* PACC 2052(b) Murder of the Second Degree
* PACC 2901(a)1 Kidnapping F1
* PACC 2901(a)2 Kidnapping F1
* PACC 2901(a)3 Kidnapping F1
* PACC 3502 (a) Burglary F1
* PACC 3701(a)(1((i)Robbery F1
* PACC 3701(a)(1((ii)Robbery F1
* PACC 3701(a)(1((iii) Commits or Threatens immediately to commit any felony of the first or second degree – F1
* PACC 3921 (a) Movable Property – A person is guilty of theft if he unlawfully takes or exercises unlawful control over, movable property of another with intent to deprive him thereof. F3
* PACC 5510 – Abuse of Corpse M2
Still awake?
15.Raghunandam Yandamuri, like most people, misused office equipment for personal ends. But Yandamuri took misuse of office equipment to new, stratospheric heights by printing the ransom notes on his work computer, a crime million times worse than the Telugus' favorite pastime of ogling at pictures of starlets Ileana, Anushka, Kajal, Samantha or Tamanna on their office computers.
16. Raghunandan Yandamuri has a bizarre sense of humor, suggesting a weakness for bad Telugu movies that are rife with crude humor. After confessing to his crimes,  Yandamuri asked the police officers to tell the media that his wife had turned him in so that she could get the Reward money of $30,000 established for locating the missing child Saanvi Venna! Is this the new definition of chutzpah?
17. Raghunandan Yandamuri did not leave just one copy of the Ransom note in the Vennas' apartment but flung 10 copies, a weird move that will have Telugus running to their mythology books for the significance of the number 10. Hey, didn't Ravana, the Sri Lankan demon king and abductor of Sita, have 10 heads? Eureka!
18. Raghunandan Yandamuri killed 61-year-old Satyavathi Venna and her 10-month-old granddaughter Saanvi Venna and introduced Americans to a new Indian word Telugu.