Update: Damn, Raghunandan Yandamuri Hearing Postponed Again! What's Happening?
Pennsylvania court authorities have put out a new preliminary hearing date for Raghunndan Yandamuri, the alleged killer of the Vennas.
Montgomery County court authorities have scheduled November 14, 2012 as the new preliminary hearing date in the court room of Magisterial District Judge James P. Gallagher.
The hearing is set for 9AM.
For Indians in the United States, news of the new hearing date for Raghunandan Yandamuri will come as a joyous Diwali gift.
Diwali, the biggest festival for Hindus, falls on November 13 this year.
Although the hearing is set for Wednesday, I expect many Indians will throng the venue of the preliminary hearing to get a glimpse of Raghunandan Yandamuri.
The exact venue of the hearing has not been disclosed, presumably for security reasons.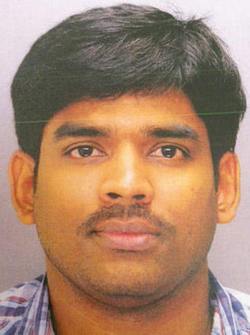 Earlier Postponement
Yandamuri's preliminary hearing was previously set for November 2, 2012 but postponed to allow for the appointment of a Public Defender.
Stephen Heckman has been named the Public Defender for Raghunandan Yandamuri.
Public Defenders, at tax-payers cost, are appointed when the accused does not have the money to hire an attorney.
Yandamuri does not have the financial resources to engage a lawyer to defend him against the various criminal charges.
Raghunandan Yandamuri has been charged on multiple counts in the killing of 61-year-old Satyavathi Venna and her 10-month-old granddaughter Saanvi Venna in their King of Prussia, PA apartment.
Both Raghunandan Yandamuri and the Vennas are Telugus and hail from the South Indian state of Andhra Pradesh.
Raghunandan Yandamuri is a software programmer as are Siva Venna and Latha Punnuru, the parents of Saanvi Venna.
Raghunandan Yandamuri was arrested on October 26, 2012 and is being held without bail at the Montgomery County Prison in Pennsylvania.
The Venna murders has set off much soul searching among the Telugu community in the U.S.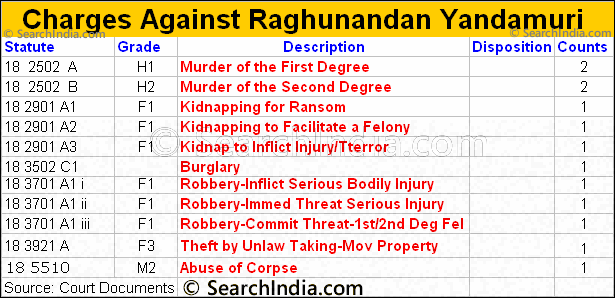 Preliminary Hearing – What Happens There
A preliminary hearing provides the accused/defendant his first opportunity to defend himself.
The preliminary hearing is also the time when attorneys for both sides appear in the court room, examine witnesses, a judge looks at the case and the evidence and decides whether there is probable cause for the case to go forward.
The prosecution must provide sufficient evidence to the court that a crime was committed and link the defendant to the crime.
When Raghunandan Yandamuri arrives at his preliminary hearing on November 14, he will have three options:
1. Plead guilty
2. Challenge the Prosecutor on probable cause
3. Waive the case into trial
I am not the betting kind but I'm inclined to believe Raghunandan Yandamuri will plead guilty.
Police documents show that Yandamuri has confessed to the crimes during questioning.
Related Content:
Essential Facts About Raghunandan Yandamuri
If He Had Any Brains At All, Raghunandan Yandamuri Would Have Killed Himself
Telugu Gambler Raghunandan Yandamuri's Crime Gamble Failed Big Time