Telugu bidda Raghunandan Yandamuri was an unlucky gambler.
Yandamuri lost $50,000 in 12-months on gambling.
And Yandamuri's $50,000 ransom gamble led to the loss of two lives, besides the loss of his own freedom and endless misery to many others.
By the age of 26, Raghunandan Yandamuri weathered more financial trouble than most of us experience in a lifetime.
An analysis of Raghunandan Yandamuri's publicly available financial documents suggest his woes were largely self-inflicted.
Ultimately, Yandamuri's financial travails became catastrophic not only for himself and his wife but for two innocent souls from the Venna family as well.
Yandamuri – Desperate for Money
Without doubt, Raghunandan Yandamuri committed the two murders (of 61-year-old Sathyvathi Venna and her 10-month-old grandaughter Saanvi Venna) for money.
Just three days before his murder spree, media reports say Yandamuri called his Telugu buddy Chendu Tummala in San Jose, California and asked him for $1,000.
But the thousand dollars Yandamuri borrowed from Tummala was just an appetizer compared to the $50,000 Ransom entree he was quietly cooking up.
Yandamuri wanted big money desperately, something like $50,000 (the amount he asked for in the ransom note).
And to get that $50,000, Yandamuri was willing to go to any extent including murdering grandma Satyavathi Venna and then kidnapping and murdering little Saanvi Venna on October 22, 2012.
However, Yandamuri's financial woes were not new.
Even before he moved to King of Prussia around May 2012, Yandamuri had severe financial problems while living in San Jose, California.
Where Did the Money Go?
The biggest question in the Raghunandan Yandamuri case is why his financial situation turned into a perilous mess.
Many thoughts come to mind regarding Yandamuri's finances.
* Was Raghunandan Yandamuri a gambler?
* Was Raghunandan Yandamuri living way beyond his means, eating too much Dum Biryani, watching too many crappy Telugu films and splurging on fancy clothes and latest electronic gizmos?
* Was Raghunandan Yandamuri crippled by family loans/debts?
Only Raghunandan Yandamuri can provide conclusive answers to the questions.
But we can make an informed judgment by analyzing Yandamuri's publicly available documents like his Bankruptcy filing of April 2012.
By American standards and considering the depressed economy these days, Raghunandan Yandamuri was making decent money as a software engineer.
Here's a look at Yandamuri's income statement for the last couple of years: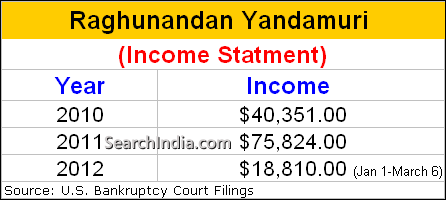 Yandamuri – Gambling Losses
Unless Yandamuri was lying to the Bankruptcy court, Yandamuri was a big-time gambler.
Yandamuri's April 10, 2012 bankruptcy filing reveals an interesting disclosure – the young fellow had suffered gambling losses of $50,000 between March 7, 2011 and March 6, 2012 (Source: Statement of Financial Affairs, Page 3, filing signed on March 6, 2012, U.S. Bankruptcy Court, Northern District of California).
That's a huge gambling loss for a 26-year-old man.
Telugus in America are not given to spending much money.
They usually lead frugal lives and are obsessed with hoarding money.
Other than an occasional Dum Biryani or a silly Allu Arjun film, they tend to be parsimonious with their money.
In their spending habits, it's safe to say Telugus give the Scots a good run for their money.
But Raghunandan Yandamuri is clearly not your run of the mill Telugu bidda.
Lord Balaji of the Seven Hills certainly broke the mold after creating Raghunandan Yandamuri!
It's not clear how Yandamuri lost the money.
Did he lose it in the Las Vegas casinos, was it lost betting on Indian cricket matches or were the losses incurred in some other arena?
Only Yandamuri can answer those questions.
And unfortunately he's not accessible to either the public or bloggers right now.
Who Provided Gambling Money?
Another intriguing question is, where did Yandamuri get the money to gamble?
Yandamuri's financial statements to the Bankruptcy Court show that his Average Monthly Net Income was $4,831 while his Average Monthly Expenses amounted to $4,693, leaving a balance of just $138 every month.
Since Yandamuri was sending home $600 every month, I will assume the gambling money was not coming from his family in India.
It's likely Yandamuri partly used the credit cards as a piggy bank to fuel his gambling habit.
In the Chapter 7 Bankruptcy filing made on April 10, 2012 at the U.S. Bankruptcy Court for the Northern District of California., Yandamuri listed total liabilities of $26,268 to the credit card companies.
An analysis of his credit card debts shows he obtained multiple credit cards (sometimes on the same day) and ran up huge debts on the cards quickly.
Most likely, Yandamuri took out cash advances on his credit cards.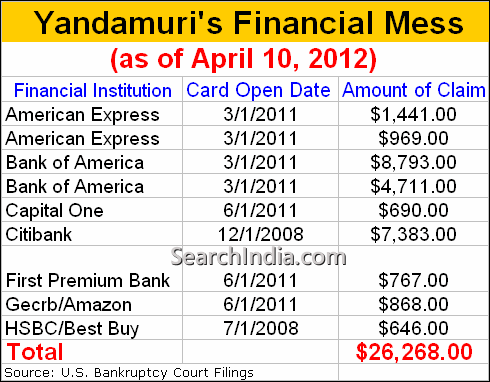 Still, given Yandamuri's limited resources some of the gambling money must have come from other sources.
Private loan sharks?? Wife's side family members?
Maybe.
Yandamuri's debts to the credit card companies were discharged on July 17, 2012 via his Chapter 7 bankruptcy application.
By this time, Yandamuri had already moved to King of Prussia, was married to Komali Alokam, working in a new job and had befriended the Venna family who were also living in the same Marquis apartment complex.
However, Yandamuri's financial woes had not ended.
The young man was still in financial dire straits.
Was he gambling again?
We don't know.
What we do know is that Chester and Atlantic City casinos are not far from King of Prussia.
When he noticed the Vennas together bringing home around $10,000 a month (Siva Venna and Latha Punnuru are both software programmers), he smacked his lips seeing the couple as easy bait for the nefarious plan he was cooking up.
Credit Squeeze
One negative consequence of declaring bankruptcy in the U.S. is that it's hard to get credit or any kind of loan for several years.
Life without a credit card is hard in the U.S.
Compounding Yandamuri's financial problems, his wife was pregnant and he had to get his in-laws from India for post-delivery assistance.
If Yandamuri was down to borrowing $1,000 from friends, his financial situation must have been bleak.
Bottom line, if you go by Yandamuri's financial disclosures and media reports this was a man struggling through severe financial problems.
By October 2012, Yandamuri had run out of options and with the credit squeeze like a noose around his neck he took the deadly gamble of attacking the Venna family that ultimately ended in a great tragedy for two families.
Unanswered Questions
1. Was Yandamuri acting alone? In his ransom note, he uses the pronoun 'our' and 'we' repeatedly.
2. Did he have a previous connection to the Venna family?
3. How much debt did Yandamuri have as of October 22, 2012?
4. Was Raghunandan Yandamuri still gambling?
5. Does Raghunandan Yandamuri have a history of mental health problems?
Answers to these questions will not rise the dead from their graves or save Yandamuri from the lethal injection or spring him out of prison.
But it'll certainly bring closure to the millions of Telugus who are now voyeuristically thronging the online forums and endlessly dissecting the two murders with new conspiracy theories.
Related Stories:
Raghunandan Yandamuri's Chapter 7 Bankruptcy Filing
If He Had Any Brains At All, Raghunandan Yandamuri Would Have Killed Himself
Essential Facts About Raghunandan Yandamuri