I assure thee, – and almost with tears I speak, – there is not one so young and so villanous this day living. – As You Like It
***************
Media reports from Montgomery County, Pennsylvania say that the preliminary hearing of Raghunandan Yandamuri has been postponed.
The hearing was postponed at the request of Yandamuri's public defender attorney Stephen Heckman.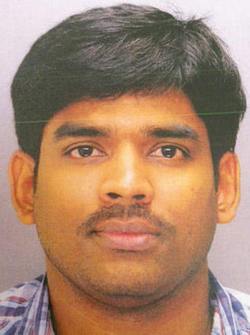 26-year-old Raghunandan Yandamuri
Yandamuri has been charged with the murder of fellow Telugus, Satyavathi Venna (61) and Saanvi Venna (10-months) and kidnapping of Saanvi Venna  among other charges .
Heckman asked the court for more time to prepare for the case since he was only appointed Friday by a panel of Montgomery County judges.
The new date for the preliminary hearing is not known.
Yandamuri's hearing was earlier scheduled for Friday, November 2, 2012 in the court of Magisterial Judge James Gallagher.
Yandamuri's hearing was set to be held in the Upper Merion Township building rather than the court room for security reasons.
Police might have reason to be concerned because Yandamuri's alleged killings have provoked deep revulsion among the Telugu community to which he belongs.
The victims were also Telugus.
Yandamuri's attorney Stephen G. Heckman, who was previously chief public defender of Montgomery County, PA, from January 2008 through April 2012, has a hard job ahead of him.
Heckman has an office on Morris Road in Blue Bell, PA.
For those of you not familiar with Raghunandan Yandamuri, we present below the Telugu bidda's profile:
Raghunandan Yandamuri – Yesterday, Today, Tomorrow
Despite the loss of his police constable father at a tender age, Telugu bidda Raghunanda Yandamuri's life did not skid into a Dickensian hell of poverty.
Au contraire, it took on an entirely different trajectory.
Thanks to the heroic efforts of his mother Padmavathi who secured a job in the Vizag district police department as a clerk, the fatherless boy was able to secure a good education.
To his credit, the young boy was an earnest student who didn't let his early misfortunes deter him.
In this post, we look at the young man's past, present and future.
This post posits that the past has little bearing on one's future actions.
Nothing, nothing in Raghunandan Yandamuri's past would suggest the complete train-wreck his future would turn into.
Raghu's Yesterday – 1986-2007
Name: Raghunandan Yandamuri
Short Name: Raghu
Date of Birth: February 21, 1986
Place of Birth: Vizag, Andhra Pradesh, India
Mother Tongue: Telugu
Father: Late Surendranath, a police constable
Mother: Padmavathi, a clerk in the Vizag district police office
Brother: Satish Yandamuri
Height: 5-ft 9-inches
Weight: 160lbs
Schooling: Stella Maris High School, Vizag
College: Engineering at Chilakaluripet, Guntur District, Andhra Pradesh
Personality Trait: Friendly, Helpful, Ambitious
Goals: To Reach American soil
Romance: Lengthy, 6-year-long courtship of Guntur girl Komali Alokam
Marriage: 2012
Wife: Komali Alokam (now pregnant)
Friends: Chandu Tummala, Karnati Rashivar
Food: Upma, Masala Dosa, Dum Biryani, Gutti Vankaya Curry, Gongura Chicken, Avakkay Pickle
Raghu's Today 2007-October 26, 2012
Profession: Software Programmer
Achievement: Landed on American Soil on a Student Visa in pursuit of the American Dream
Plans – Make Tons of Money
Prospects – Good, thanks to the love of American Corporations for Indian Programmers
Life Philosophy: Money is Honey, My Dear Sonny and a Rich Man's Joke is Always Funny – Ogden Nash
Personality Trait: Initially gung-ho, Morphed into a Cunning Dolt
Execution of Plans – Good with screwing credit card companies but bad on kidnap. Failed to Account for the Unexpected
Biggest Failure: Not being Aware of Law of Unintended Consequences
Previous Residences:
* King of Prussia, PA
* San Jose, CA
* Edwardsville, IL
Employers:
* GSI Commerce
King of Prussia, PA
* Sarayu Consultants
Carpentersville, IL
Financial Situation: Horrible
Bankruptcy Applied for Chapter 7 Bankruptcy in April 2012. Credit Card Debts of $26,268 Discharged in July 2012
Debts: Likely High
Vices: Gambling
Non-Violent Crimes: Ripped Off a bunch of Credit Companies
Violent Crimes:  Murder, Kidnap, Burglary (all alleged)
Preferred Weapon: Kitchen Knife with 4-inch Blade
Greatest Contribution: Provided Enormous Fodder to Bored Telugus in America to Endlessly Dissect his Motives and Spin Bizarre Conspiracy Theories in Online Forums
Raghu's Tomorrow – October 27, 2012-Till Death
Current Residence: Montgomery County Prison in Eagleville, PA
Future Residence: An American Prison
Food: Three Cafeteria Meals with Spiceless Food, No Dum Biryani for the Rest of his Life
Major Plans: Avoiding Brutal Assaults from Other Prisoners
Prospects: Extremely Bleak; Death Penalty via Lethal Injection or Life Without Parole
Music Choices: Jailhouse Rock, Howls and Screams of Prisoners, Banging on Cell Walls
Personality Trait: Fatalistic, Introspective
Ending: Horizontal Exit in a Cardboard Box, Unsung, Unmourned
Related Content:
Essential Facts About Raghunandan Yandamuri
If He Had Any Brains At All, Raghunandan Yandamuri Would Have Killed Himself
Telugu Gambler Raghunandan Yandamuri's Crime Gamble Failed Big Time