Oh, I don't mean that kind of gushing, panting relief! 😉
I mean the kind of relief a victory like Nina Davuluri's has brought to the weary Telugu community in America reeling under the terrible deeds (Double Murder, Triple Murder, Kidnapping, Serial Groping and Reckless Gambling) of some of its unsavory members.
Terrible Times
The last 12-months has undeniably been annus horribilis for Telugus in America.
Telugu biddas like Raghunandan Yandamuri, Srinivasa Erramilli and Lakshminivasa Rao Nerusu have given the community in the U.S. a prominent place on the American map of notoriety.
As if that were not bad enough, the mushrooming Dum Biryani restaurants in New Jersey and New York are making profits hard to come by for new Telugu restaurateurs.
Good Tidings
Finally, there's something for the depressed Telugu community in America to cheer about.
Nina Davuluri, a 24-year-old Telugu girl from New York, became the first Indian-American to win the coveted Miss America title in the annual skin-show competition.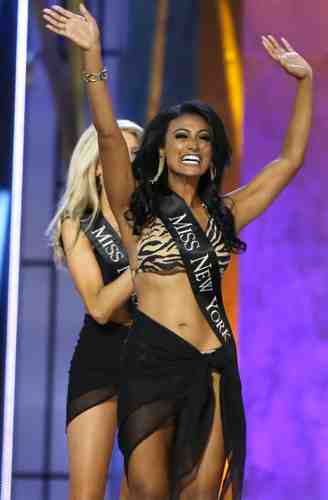 Brown is Beautiful
(Pix: NY Daily News)
A native of Syracuse in upstate New York, Nina Davuluri is the daughter of Telugu immigrants from the South Indian state of Andhra Pradesh.
Nina's mother Sheila Ranjani and father Davuluri Koteshwara Choudhary are from Vijayawada in coastal Andhra Pradesh.
At the Miss America competition last night in Atlantic City, Nina performed a Bollywood dance, which usually involves jumping up and down in a demonic frenzy to the sound of wild shrieks and wails.
Doctor in the Making
As the new Miss America, Nina takes home $50,000 in scholarship, money that will come in handy when she joins medical school in pursuit of her plans to become a cardiologist.
Nina comes from a family of doctors.
Her father Chaudhury Koteshwara Davuluri is a specialist in obstetrics and gynecology at St. Joseph's Hospital in Syracuse, NY.
Nina's older sister Meena Davuluri is said to be in the third year of medical school. Some of Nina's uncles and aunts are also doctors.
Nina has a Bachelor's degree in Brain Behaviour and Cognitive Science from the University of Michigan.
This is the second consecutive year a Miss New York has taken the Miss America crown.