Future historians will undoubtedly record that Apple was one of the worst exploiters of less fortunate humans.
Despite having over $100 billion in the bank, Apple continues to exploit tens of thousands of poor Chinese workers who toil to make the iPhones, iPads and iMacs that consumers drool over in the West.
So miserable and wretched are the conditions at Apple's contractors in China that several hapless Chinese workers have killed themselves and countless others injured on the assembly line.
Deaths and injuries that are glossed over by Apple, its callous shareholders and mindless consumers across the world.
And let's not forget the millions of jobs Apple has outsourced to Asia, screwing Americans in the process.
Given Apple's vast catalog of sin and relentless exploitation, it gives me great pleasure to note that Apple's share of the smartphone market continues to decline.
iPhone Share Down
In the third quarter of 2013, Apple's share of smartphones fell to 13.4%, from 16% a year earlier.
One likely reason for Apple's tepid growth of its iPhones in the third quarter – Many consumers sat on the sidelines waiting for the new iPhones to arrive.
Apple's new iPhone 5s and iPhone 5C started shipping only on September 20, 2013.
Apple shipped 33.8 million smartphones in the third quarter of 2013, about 6.9 million units more than in the corresponding period last year.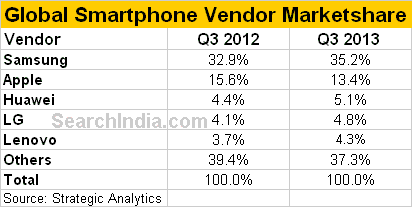 Samsung Boosts Share
Even as Apple battles headwinds, Samsung continues to see momentum in the smartphone market.
The South Korean company boosted its marketshare from 33% to 35.2% in the third quarter.
Although Samsung's latest smartphone, the Galaxy S4, has not been a stellar hit, the company still shipped a total of 88.4 million units in the third quarter.
Samsung's Android-based smartphones are cheaper than iPhones and the company has better sales in fast-growing Third World markets like China and India.