As my faithful readers know, I'm addicted to all things Korean.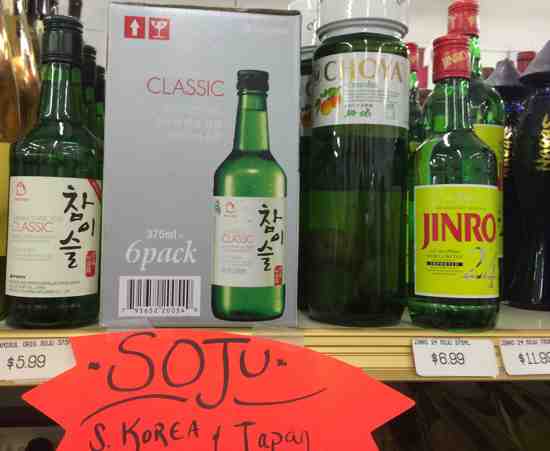 Korean Drink Soju at a Liquor Store in the U.S.
I love Korean Movies.
I'm so addicted to Korean TV programs that I'll even stoop to watching romantic soaps on Viki.com.
The sight of those fair-skinned, tiny-titted, slim Korean babes saying Komasmita (thank you) send me into paroxysms of sexstasy.
As anyone who has watched Korean movies or TV series knows, Korean men and women keep drinking Soju all the time.
So this evening I hauled myself to an Indian Tibetan liquor store on the East Coast and got a 750-ml bottle of Soju.
In the movies, Koreans usually drink Soju from a smaller bottle. But being American, I super-sized my purchase to a large bottle!
Say what you will but a Tibetan liquor store fella is far friendlier and infinitely more knowledgeable than the average Gujju Patel liquor store owner in the U.S.
Soju is a hard liquor native to Korea. The good folks at Wiki say traditional Soju is made from rice, wheat, and barley.
But my Soju bottle says it's made from grain neutral spirits, sugar and citric acid.
What good is Soju without some spicy Indian sides, right?
So I got myself some Spinach Gota (a Pakoda-like North Indian snack) and Bisi Bele Bath (a spicy South Indian rice treat).
Great combination, kiddo.
Soju – Nice Drink
Apparently, Soju is best drunk chilled and neat (or on the rocks).
Soju does not smell as 'bad' as other hard alcoholic drinks.
The Soju brand I acquired was Jinro, which is supposedly the world's bestselling Soju and contains 24% alcohol.
It goes in smoothly.
Doesn't have any of the unpleasant taste of whiskey, vodka, rum, brandy or even gin.
The label on the back of my Soju bottle says the drink goes well with Korean spicy food and BBQ meats. Since I don't have any Korean restaurants nearby, I'll  stick to my favorite Indian Gota and Bise Bele Bath.
I've already imbibed 100-ml of Soju and intend to finish much of the bottle tonight.
Now if you schmucks will excuse me, I intend to get back anon to my Soju and the Korean romantic soap Marry Him If You Dare that I've paused on my 27-inch Mac!
Have any of you guys tried Soju?