Everybody deserves to be on the mobile Internet, and price shouldn't stand in the way of anyone having a truly good smartphone to get them there. – Motorola blog post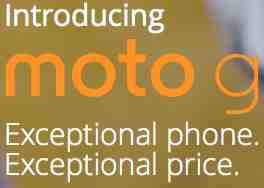 Google's Motorola unit drove a $179 pike into Apple's pricey $649 iPhone coffin with the launch of its new Moto G smartphone.
The prices are for unlocked smartphones without those vexing two-year contracts with the carriers.
Moto G's main claim to fame is that the device "delivers a premium experience for a third of the price of current high-end phones."
If Moto G takes off, it could be another blow to Apple, which is bleeding market share for its pricey iPhones that start at $649 (non-contract, unlocked versions).
Motorola badly needs a big hit.
If consumers embrace the Moto G in a big way, it could give a badly needed boost to Motorola, which has been struggling financially. Motorola reported an operating loss of $248 million during the third quarter of 2013 compared to a loss of $192 million in the third quarter of 2012.
Besides the impact on Apple, the Moto G, if it lives up to expectations and the hype, could throw a big spanner in the works of carriers like AT&T, Sprint and Verizon. With an unlocked phone, U.S. customers are unlikely to stay loyal to a carrier and could easily defect to other carriers. Hey, that could even drive monthly service charges down.
Moto G Specs
* 4.5-inch HD display that goes edge-to-edge
* Qualcomm Snapdragon 400 quad core processor
* Built-in rechargeable lithium-ion, 2070 mAh battery with all-day battery life
* 5MP rear camera and 1.3MP front camera
* Android 4.3 Jellybean,  with a guaranteed upgrade to Android 4.4 KitKat in early 2014
* Micro USB
* Curved back design with 19 customization options, including interchangeable Motorola Shells and Flip Shells in seven colors as well as Grip Shells in five colors
One drawback of the Moto G is lack of 4G LTE support. But I don't see that as a big negative.
Moto G Availability
Moto G will debut in Brazil and parts of Europe this week.
Latin America, Europe, Canada and parts of Asia should get the device in a few weeks.
Expect to see Moto G in my two favorites India and U.S., and the Middle East in early January.
At launch, U.S. customers should be able to buy Moto G on Motorola.com, with no contract, no SIM lock and an unlockable bootloader for $179 with 8GB of storage and $199 for the 16GB version.
Moto G buyers will also get 50GB of extra storage on Google Drive (on top of the free 15GB storage) for two years.
Of course, Moto G will be available through various carriers and retailers.
While a lot of consumers in developed regions like North America and Western Europe might plump for the Moto G, I'm not sure if it'll prove to be a hit in countries like India and China where $99 smartphones are popular.
Now if only I hadn't got the iPhone 5s recently, I might have been tempted to give Moto G a shot.