By SI's Tokyo Correspondent
Nirvana for Indians anywhere on the planet comes in three forms – Curry, Cricket and Cinema (Bollywood or its Southern variants Kollywood and Tollywood).
The world may be better than Indians at several things but none can beat us in food and cricket. And nobody, nobody can make trashier movies than our Bollywood folks! 😉
So when SI requested me to review a South Indian restaurant in Tokyo, to say "No" was out of the question.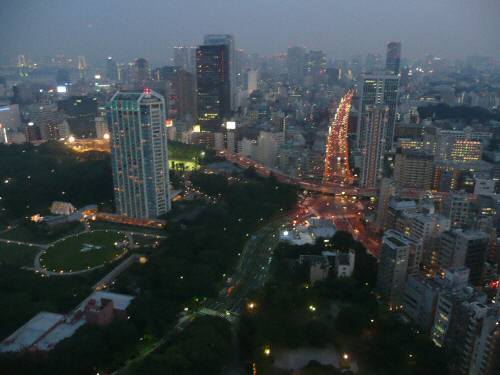 Downtown Tokyo at Dusk
No sane Indian will say "No" to a South Indian buffet. And I count sanity as one of my few virtues.
This morning in the company of a Japanese friend I headed to Nirvanam in Toranomon to treat myself to South Indian food.
Other than muff-diving, I can't think of a greater treat for my face than to stuff it with aromatic South Indian food until the stomach yelps in agony and bellows that it can't take any more.
Nirvanam has two restaurants in the Tokyo metropolitan region, one in Toranomon and the other near Kamiyacho station.
Nirvanam Toranomon is a small and cozy restaurant right in the heart of Tokyo, next to the posh Ginza locality.
Ginza, as some of you may know, is one of the most expensive places on Earth.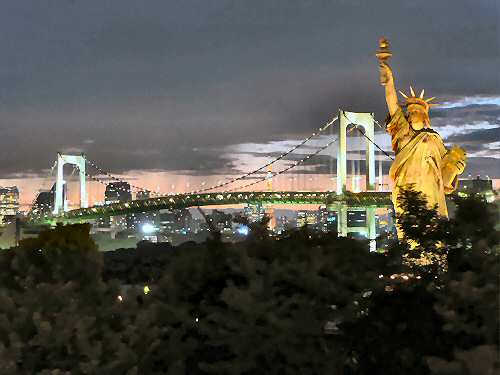 NSA Sold Lady Liberty to Japan

There are a couple of other Indian restaurants around the Ginza locality too.
But even a gourmand like myself can feed from only one buffet trough for lunch.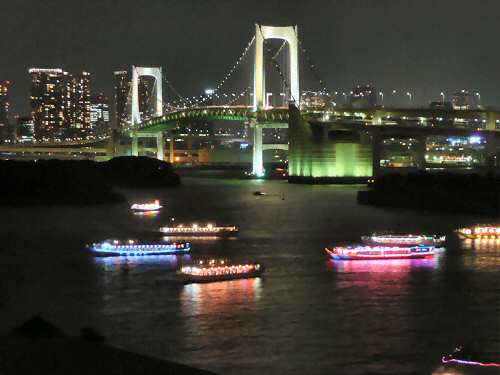 Tokyo Night View – Better than Chennai?
While there are plenty of Indian restaurants in Tokyo, many bearing the same tiresome names like Delhi, Taj, Bombay Club, Indian Cafe, Swagath and Namaste, desi eating houses specializing in South Indian cuisine are limited in Tokyo.
Its South Indian fare was one of Nirvanam's attractions for me.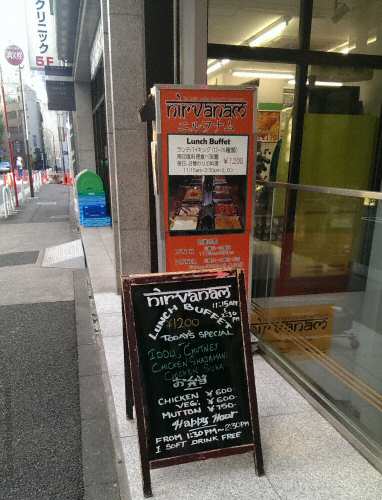 Nirvanam Restaurant Tokyo
The restaurant is located in one of the by-lanes, not on the main road.
We had some difficulty finding the restaurant, and only with the help of a security guard could we locate it.
If you plan to go there, the address is: B1F Toranomon 1-1-20, MinatoKu, Tokyo 105-0001. Phone: 03-5510-7875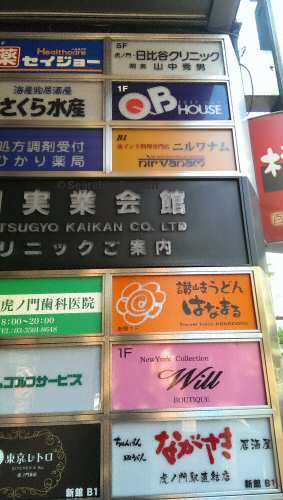 Nirvanam Board
Our salvation hope Nirvanam welcomed us with a lunch board promising us, oh, so soft Idlis and our favorite flying friends as Today's Special.
After squeezing ourselves through the narrow entrance, a cheerful young waiter welcomed us with the familiar Japanese greeting "Irasshaimase."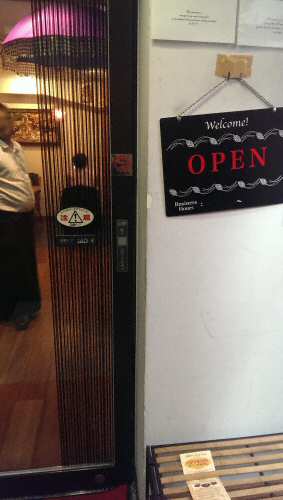 Nirvanam Entrance
We could hear contemporary Telugu songs trickling from the speakers.
Surprising!
And all these days I thought the Telugu Biddas had flocked en masse to SI's country, the US of A.
The restaurant was warmly lit.
Three or four tables were occupied when we walked in.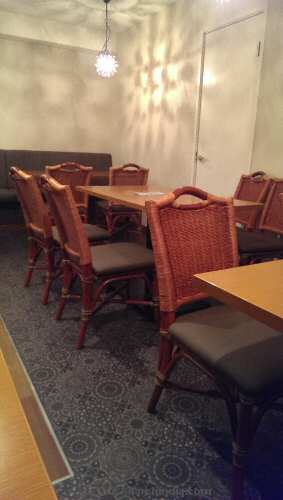 Nirvanam Interiors
Nirvanam attracted a steady stream of visitors while we ate attesting to its popularity.
The restaurant is not too big and can accommodate 40 people at the max.
Chairs and tables are closely spaced. Not so close that you will rub your elbows against each other, but just enough of space to move around.
You cannot complain about that in Tokyo.
Japan being a small country, space is at a premium here.
Typical to Japanese settings, the restaurant had used the space well.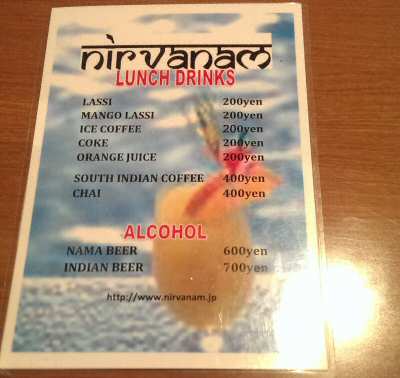 The waiter promptly showed our seat, placed wet towels and water for us and disappeared.
So far so good. At least this restaurant wanted their customers to come back.
We had our water refilled promptly the first time.
But the next time I asked them for water, he placed the jug in front of us and moved out. My Japanese friend and I were taken back by that unwelcome and rude gesture.
We consoled ourselves that Indians will be Indians whether in Chennai, Atlanta or Tokyo.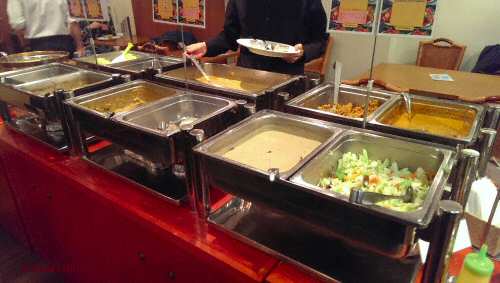 Nirvanam Buffet Counter
The buffet table was placed at the center of the dining hall.
The buffet counter had a placard that said if you dine at Nirvanam, take a picture and tag in Facebook, you could get 100 Yen off during your next visit.
Also, they were requesting us to take only two bowls per person and reuse it if we can. This practice is different from the U.S. where diners are expected to use new plates or bowls during each visit to the buffet station. Some Indian restaurants in New Jersey and New York even have signs at the buffet counter asking customers to get fresh plates.
Buffet Spread
Nirvanam's spread was modest, at least by U.S. standards, for a weekend buffet.
There was salad, Idli, Medhu Vada, Chutney, Sambar, Mix Veg Curry, Kerala Parotta, Chicken Shahjahani, Mutton Curry and Sweet Pongal.
Alas, there was no Dum Biryani, the favorite of Telugu biddas!
A weekend buffet at a South Indian restaurant in the U.S. would have at a minimum double the items for $13-$16.
Green Salad
We started with green salad, helping ourselves generously to french dressing.
The veggies were crisp, fresh and juicy.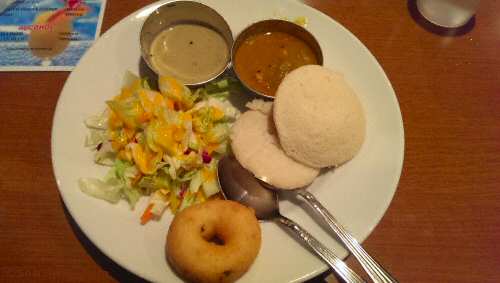 Idli, Medhu Vada, Sambar, Chutney
Idli
Being a dark skinned Southie, with roots firmly planted in South India, I know how a soft and warm Idli can make you swoon and give you immense satisfaction of a day well begun if you have it for breakfast.
Nirvanam's Idlis were big, soft and warm – Purrrrrfect.
The Idlis begged to be eaten with Sambar and Chutney.
We dove in head first, nah, finger first.
Sambar
The Sambar was of the right consistency.
Not too watery, not too thick and warm.
Right amount of tanginess and spice – a match truly made in heaven and we gratefully gorged on the soft Idlis.
With Idli finding its perfect match in Sambar, the coconut chutney felt so lonely and invited us to sample her wares.
Coconut Chutney
Being the kind-hearted homo sapiens type that we are unlike SI, my friend and I dutifully obliged, dipping our dirty fingers into the Chutney bowl.
The coconut was fresh and the Chutney was not cold indicating it was freshly prepared.
Although the Chutney was a little spicy and salty for my taste, I'd still put it in the good category.
Fresh coconut is not widely available here in Japan and so most restaurants resort to using dessicated coconut and mixing it with water.
It tastes like hideous sweet shit, but, boy, this Chutney was good.
I would have liked the Chutney to have been seasoned with urad dal and mustard.
This one was seasoned with mustard and, oddly, cummin seeds.
Medhu Vada
We moved on to Medhu Vada with our familiar friends Sambar and Chutney in tow.
The Medhu Vada's outer layer was crispy but hard.
But after we broke through the tough shell we buried ourselves in her invitingly soft and warm interiors.
We found it to be tasty and filling.
During a subsequent visit to the buffet station, we found that the Vadas were refilled and helped ourselves to more.
We found the second lot to be more tasty with a softer and more crisper exterior shell.
There's an important lesson from my second round of Vadas on why you should never get married. No sooner have you broken the seal on the first than you find a more luscious second babe in a tamper-proof package. 😉
Kerala Parotta
Next we tried our hand at the Kerala Parotta.
Little did we know the misfortune that lay ahead of us.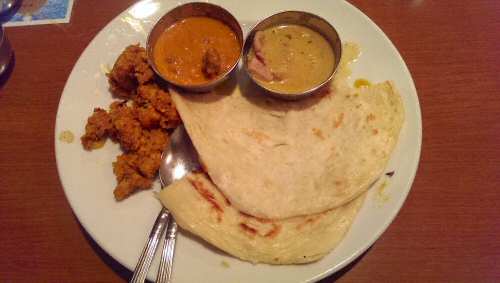 Kerala Parotta, Mutton Curry, Chicken Sukka, Chicken Shahjahani
Kerala Parotta was warm, but hard and rubbery.
We tried the Kerala Parotta with Chicken Shahjahani, Mixed Vegetable Curry and then Mutton curry but derived little comfort.
Chicken Shahjahani
The Chicken Shahjahani placard asked us to expect chicken pieces in onion and cashewnut base gravy.
Surprisingly, it was watery and not as creamy as I had expected.
A watery shit masquerading as chicken curry.
A wolf in sheep's clothing, not unlike most Indians.
Mix Vegetable Curry
Sweet and mildly spiced, with carrot dominating the medley, the Mix Vegetable Curry turned out to be another disappointment.
I sensed that Nirvanam's kitchen was making the curries mild to suit timid Japanese palates.
Indian palates used to fiery curries since birth will look askance at mild versions of their favorite curries.
Mutton Curry
Onward to the Mutton Curry.
The mutton curry too proclaimed the same mutton pieces in onion and cashewnut gravy.
The mutton was soft and not rubbery, with the right amount of spice.
I doubt they had added any cashew nuts in both the gravy.
Nevertheless, it was palatable and one less thing to whine about.
Chicken Sukka
Chicken Sukka, here we come!
OMG, was the chef sleep-walking?
Seriously, I could not get what kind of dish this is.
I got the feeling that the chef wanted to prepare something else, changed his mind half-way and then gave up and dished out this abomination to unsuspecting diners, Indians and Japanese alike.
Cold Buffet
The next time we went for a refill we found the food on the buffet table had gone cold.
The restaurant staff refilled the food, as and when they were over.
So to get the best food/warm food, you have to watch out for the timing when they refill.
Obviously, this took a toll on the Japanese rice and the chicken and mutton curries.
When we tried the cold rice with lukewarm chicken and mutton curry they fell flat.
Horrific Sweet Pongal
Sweet Pongal was undoubtedly the work of Satan.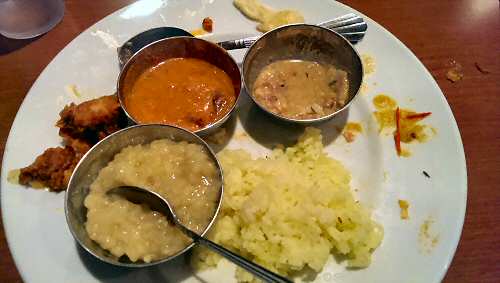 Sweet Pongal
Pongal was too mild in sweetness and the rice was not cooked fully well.
Mon dieu, we could feel half-cooked rice.
I suspect the previous day's rice which stayed in the electric rice cooker for long had been used, and so it had obviously lost some softness
Mango Lassi
Mango Lassi, a standard fixture at Indian restaurants in Japan, was good.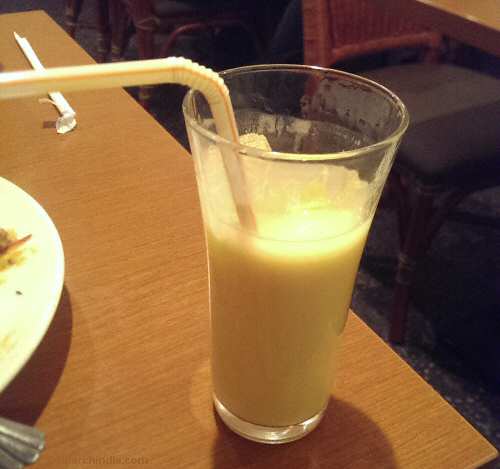 Mango Lassi
The Lassi was thick and not sour.
Hey, you cannot get the Lassi wrong, can you?
Nirvanam Tokyo Rating
To summarize my Eating for SI lunch at Nirvanam, it was a hit and miss affair.
Hits – Idlis, Sambar, Chutney and the Mutton Curry
Misses – Rest of them
The lunch buffet priced at JPY1200 ($11.71) is not fully worth it.
The Nirvanam buffet did not give us the full salvation promised by its name.
And is there really such a thing as partial salvation?