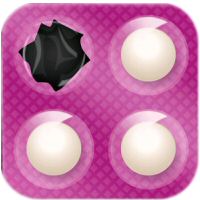 Unwanted pregnancies lead to abortions or unwanted babies.
Both terrible outcomes!
Back in my day, smart women knew what to do on 'those' days.
Where have all 'those' women gone?
Today's pill-popping women are a different story altogether. 🙁
They are either too busy, too stressed out or too lazy that they can't even remember to take their contraceptive pills on the 'right' days!
Thank God for technology!
myPill for Android
Israeli startup Bouqt today added Android support to its free myPill contraceptive reminder app.
The pill previously supported Apple iOS platform for iPhone, iPad and iPod touch.
Bouqt says its 150,000 active iOS users have a lower average of missed pills – Apparently only 14.7% of them forgot their pill at least once a month, while the world average stands at 58%.
Besides the pill, the iOS version of myPill supports contraceptive rings and contraceptive patches.
The Android version of myPill currently supports only contraceptive pills.
myPill Features
Here are some of the features of myPill for Android:
❀ Daily Pill Reminder – myPill is designed to know when to remind and when you're on a break.
❀ Snooze – If you so desire, myPill will keep bugging you until you've taken the pill.
❀ History – The app lets you take notes and track symptoms. Makes your gynecologist's life easier.
❀ Prediction – Now you can plan your vacation according to your period and avoid unpleasant surprises.
Did I tell you things were a lot different in my pre-smartphone era?
I wonder how many of the millions of babies born every year in Mera Bharat Mahaan are the outcome of some harried woman forgetting to take her contraceptive pill!