Rahul Gandhi is undoubtedly the Abhishek Bachchan of Indian politics, a lobotomized Duffer blessed enough to be born into the right Indian family.
Narendra Modi, the business-friendly leader of Gujarat, justly earned the title Hitler of Indian Politics when he turned a blind eye to the massacre and pogrom of Muslims in his state.
And these two Prime Ministers in waiting are leaders of two highly corrupt entities, the Congress and BJP, whose rotten cores made the Indian soil fertile for birth of the Aam Aadmi Party.
Most likely, it'll be either Duffer or Hitler who will become India's next leader when the senile coward Manmohan Singh is put to pasture in 2014. (Unless Duffer's cancer-burdened mother Sonia Gandhi does a volte face on beta and installs Nandan Nilekani on the PM's kursi.)
But the $64,000 question is:
Why are Duffer and Hitler partying today?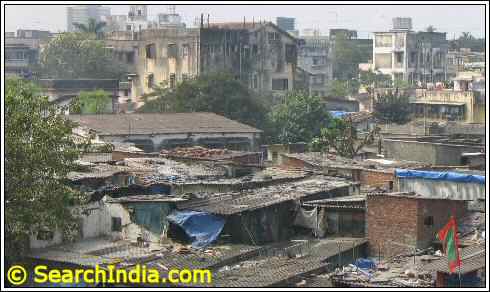 An Indian Slum – Waiting for Relief
Dhoom 3 Moment
Conceptually speaking, a Dhoom 3 moment is one where there are unintended beneficiaries.
For instance, Abhishek Bachchan, who contributed little or nothing to Dhoom 3's success, is probably drinking himself silly today as he gleefully ogles media reports of the film's stupendous box office receipts, thanks to the contribution of the 2 Aamir Khans.
You can have Dhoom 3 moments in any walk of life – Bollywood, Cricket, Business, Politics etc.
Just as the Abhishek Bachchans of Bollywood get their once-in-a-blue-moon Dhoom 3 moments, Rahul Gandhi and Narendra Modi won the political jackpot today because AAP leader Arvind Kejriwal proved unable to resist the siren song of temptation to form the Delhi government despite lacking a majority of the seats.
AAP has been a thorn in the mottled, disease-ridden flesh of both Congress and BJP.
What Will Happen
Prediction is a game best left to astrologers, of whom there's no shortage in Mera Bharat Mahaan.
But readers of the peerless SI blog have always counted on moi to help them understand the big picture, be it a Bollywood picture like Dhoom 3, or a lovely Korean flick like I Saw the Devil or the political picture in Delhi. 😉
So here I am predicting what will most likely happen in the coming months in Delhi:
* Arvind Kejriwal will walk into the Delhi administration to bat on a weak wicket. It's a bowler's pitch (controlled by Congress and BJP) since Kejriwal lacks the majority. In just a few weeks, Kejriwal will realize that governing is not as easy as campaigning.
* AAP will soon be beset by in-fighting and strong grenade attacks from outside, both the bane of all weak organizations. The well-meaning village idiot Anna has already distanced himself from Kejriwal and soon other notables will follow.
* Since a lot of AAP legislators are newbies with little exposure to the rough and grind of politics or governing the capital of an unruly, barbaric nation like India, they will make mistakes that will be wildly exaggerated by the shrieking clowns of Indian TV (don't Indian reporters and anchors get training in speaking calmly?).
* AAP is still not a strong, resilient institution that can weather the challenges posed by know foes and (still) unknown challenges because it's a young organization. Institution building is a process that takes a long time, often years, and is forged by the trial of minor challenges, major crises, electoral victories and defeats, success and failures in governing and leadership tussles. Rarely ever do political parties, movements or organizations turn into institutions in one or two years and most usually crumble quickly in the face of the trials I mentioned above.
* Arvind Kejriwal is not a charismatic leader, where the sheer force of his personality can compensate for institutional weakness. He's built more in the nature of a technocratic leader, closer to the BJP Fuhrer Herr Hitler Modi in style than the Congress netas in functioning.
* Politics is the art of tactical and strategic compromises to achieve short-term and long-term goals. I doubt Kejriwal and his team understand the importance and role that compromise plays in politics. The AAP leaders and its followers appear to be of the unflinching and uncompromising kind with an idee fixe on corruption.
* Now I'll go out on a limb and say Corruption is not as big an issue in the real world of India that the TV and print media and the middle class would have you believe. Indians have grown accustomed to petty corruption for decades because it delivers results. Weak governments like Kejriwal's AAP that rail incessantly against corruption will not be able to deliver results and benefits, which are more important to people than corruption. I'd wager anything that given a choice between corruption and results, most Indians will prefer petty corruption.
* Unrealistically high public expectations and a series of crises (orchestrated both by the Congress and BJP) will ensure that Kejriwal has a hard time delivering the goods. Don't be surprised if the law and order situation deteriorates.
* Fall of Kejriwal and his AAP could end up strengthening BJP in Delhi and reviving the Congress in Delhi, and deeply demoralizing millions chomping at the bit to cleanse the Augean stables of Indian politics.
*A lot of people are making the mistake of equating Congress' electoral defeat in Delhi with its decimation. An organization like Congress may, occasionally or even frequently, be down in India but is seldom out. Self-interest of Congress leaders will make them united. Plus, Congress has money, a strong nexus with the bureaucracy and other forms of clout which accrue to organizations that have been grazing around the Delhi pasture for a long time.
* Obviously the biggest beneficiaries of the AAP in-fighting and eventual collapse will be the Congress and BJP. It's hard to say who will win the 2014 Lok Sabha elections but BJP will have the upper hand in the next Delhi Assembly elections. I have seen the deadly plague in 1977-1980 when the ultimate beneficiary of the weak Janata Party was Indira Gandhi and her faction of the Congress. The only silver lining of those years for the Indian people was that the beast Sanjay Gandhi, long known for his Icarus syndrome, quickly fell to the earth in a mangled heap when his private plane came crashing down.
But there may not be any silver lining with the collapse of Kejriwal and his Aam Admi Party, inextricably trapped as the Indian masses are between the Scylla of the Congress and the Charybdis of the BJP.