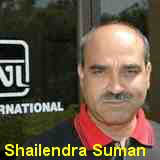 In Delhi, Arvind Kejriwal promises to empower the Aam Aadmi.
In Charlotte (NC), another Indian, Shailendra Suman (pictured at left), is promising to light up powerless households through his new SmartCharge LED light bulbs.
In short, Shailendra Suman, like Kejriwal, promises light where only gloom and darkness prevailed earlier.
Light Without Power
I swear only an Indian, who has endured the agony of endless power outages in Mera Bharat Mahaan, would venture into a powerful odyssey like the SmartCharge LED bulb project.
SmartCharge bulb is supposedly the world's first LED light bulb that can be turned ON or OFF from the same wall switch even during a power outage.
Holy cow! It's like the power outage never happened.
The SmartCharge bulb provides light for four hours.
There is a rechargeable battery inside the bulb that must be replaced every 3-4 years depending on use.
Besides the rechargeable battery, the SmartCharge bulb includes control technology, intelligence, CPU, memory, inverter, and a printed circuit board.
Consumers do not have to go in for extra wiring or special boxes to use the SmartCharge bulb. They can just replace any existing light bulb with a SmartCharge LED Bulb.
The current SmartCharge bulb model is rated at LED 5 Watt (equivalent to 40 Watt brightness). Future plans include 60 W, 75 W and 100 Watt equivalent bulbs.
Shailendra promises that SmartCharge Bulbs will work for 40,000 hours or 25 years of life.
SmartCharge bulbs should work on a wide voltage range of 110 V-240 V and come with E 26, E 27 and B 22 base socket types.
Shailendra says his company has been working on the technology for two years and has working samples.
Apparently, a reputable Indian design company has been involved in designing and prototyping the concept. Manufacture of the bulbs will take place in China.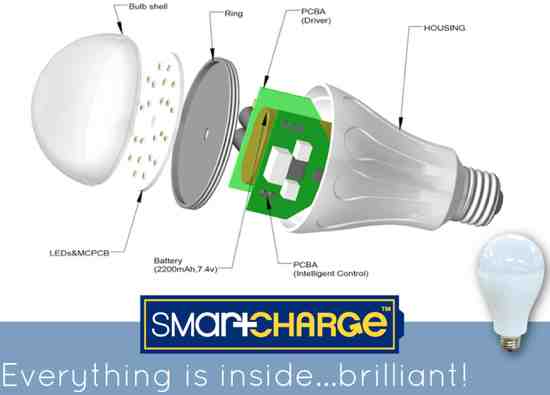 The current model of the SmartCharge Bulb is limited to one bulb and one switch control and is said to be ideal for table lamp, floor lamp or overhead single bulb fixtures. Although it works for 2 way and 3 way switches, a switch can control only one bulb in the circuit.
Shailendra's two-man startup is said to be working on an enhancement where one switch can control all lights connected to it.
Kickstarter Funding
Shailendra is in the process of raising money via Kickstarter for the SmartCharge LED bulb project.
Against his funding goal of $50,000, Suman has already raised $54,063 and has 16 more days to go.
Donors who fork out at least $35 will get a SmartCharge LED bulb.  So I presume the bulb will cost around $35-$50 for the public.
As of 12:20PM ET on December 30, 2013, 511 people had backed the SmartCharge LED light bulb project.
Shailendra intends to use the money from Kickstarter for mass production of SmartCharge bulbs.
SmartCharge Pricing – India
If Shailendra can bring down pricing for the SmartCharge bulbs, they'll prove to be a boon in India.
Power outages are rare in the U.S. but frequent in both urban and rural areas of India.
Since the SmartCharge bulb supports the B22 base, they should fit into Indian bulb holders.
SmartCharge Bulb – Timeline
* November 2013: Complete schematic and PCB design. Finalize Industrial design and firmware. Begin tooling.
* January 2014: Tooling completed. First set of T1 samples produced. Start UL Listing process.
* February 2014: Order PCB and components. Finalize tooling. Develop packaging.
* March 2014: UL Testing Complete. First batch of SmartCharge Bulbs produced.
* April 2014: Ship out SmartCharge Bulbs to Kickstarter supporters
Shailendra Suman – Biography
Shailendra Suman is an alumnus of the Birsa Institute of Technology (Sindri, India) from where he got his Bachelor's degree in Mechanical Engineering.
After moving to the U.S., Suman completed M.S. at the University of Alabama and also got an MBA in Finance.
In 2004, Shailendra founded TVL International to solve gas grill users' worst nightmare – running out of gas in the middle of cooking.
TVL's GasWatch propane tank gauge is said to be a big hit and Shailendra counts five million satisfied customers.
Shailendra established a consumer electronics company iFi Systems in 2012 to track and locate lost or misplaced objects.
iFi Systems's  Bluetooth device can be deployed in applications to track and locate personal assets, kids, pets, luggage and lost objects like cell phones, wallets and laptops.
Shailendra has previously worked at Northern State Power, Minneapolis, PSEG and at Sarnoff Corporation in NJ.